I haven't been feeling especially creative lately and then I found a theme inspiration in a bag of fruit snacks! Phineas and Ferb fruit snacks. I picked them up when I was away for work since I've never seen them in Bermuda and I thought they might be fun. When I was rummaging around in the snack container the other day, I spotted one and knew it would be perfect for Heidi's lunch.
Ham sandwiches with cheese accents - Perry, Phineas & Ferb
carrots & cucumbers, apple & pear slices underneath fruit snacks
She had some dip for her veggies when it was time to eat. I googled Phineas and Ferb and saw several images of a
Perry sandwich
and the
Phineas sandwiches
. No idea who thought of this first, but those links are the images that caught my eye. This was one sandwich cut into three pieces. I just freehand cut the cheese for Phineas and Ferb, it was pretty easy. Heidi thought they turned out really cute, so she had to eat her lunch at 10:30 am!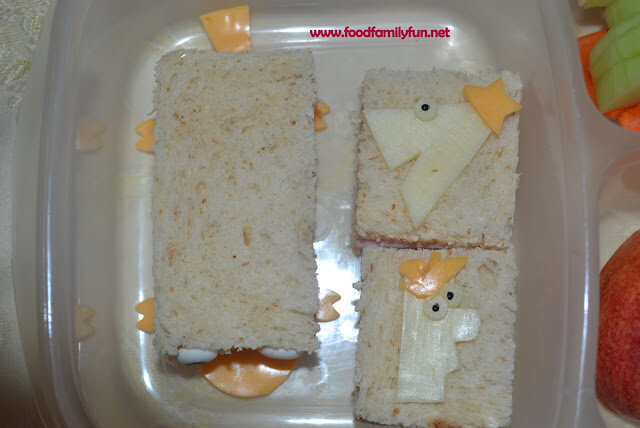 Amy and Rose had already left for ballet camp when I made this. Their lunches were a flower theme with sandwiches
exactly like this one
from last week. I didn't have time to take a photo of theirs as they were in a rush to get out the door, but I was able to leisurely pack Heidi's lunch and take TWO pictures even! It was so nice not to be in a crazy rush!
shared on: