All of the girls wanted their lunch packed in an easy lunchbox! Actually I think they wanted to take the carry bags the most. They each have a different colour bag and they really like the colours - we have black, blue, pink and purple carry bags at home. Blue and purple are the favourites :)
This is Amy's lunch - it started out with a halloween theme but the bunny egg doesn't quite fit!

ham sandwich with a black sprinkle cat cut out, cucumber slices and carrot sticks,
boiled egg, cantaloupe and strawberries
Heidi had a similar lunch
Hers stayed at home as usual and she ate it for lunch when she came home from school at noon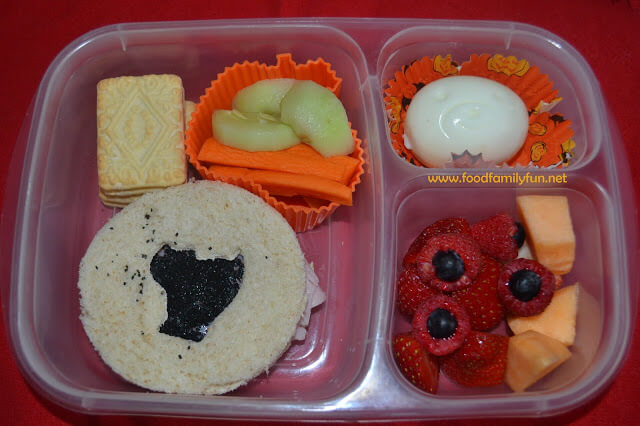 2 custard creme cookies, cucumber and carrot sticks, ham sandwich
bear shaped bunny, strawberries, cantaloupe and raspberries stuffed with tiny blueberries
Rose didn't want a sandwich and only wanted a rice cake!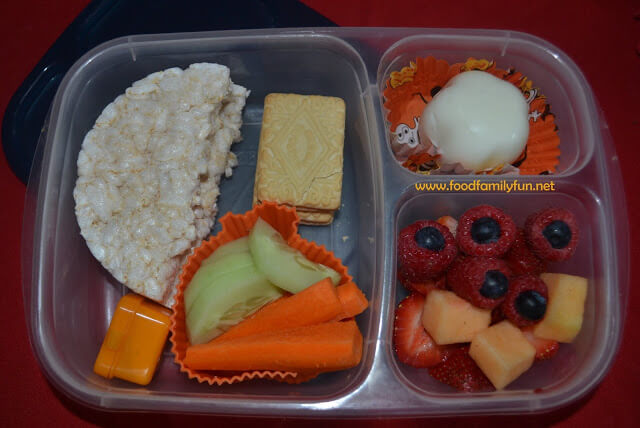 She has all of the same sides as Heidi to go with her rice cake. I offered to put peanut butter on it but she said no, she only wanted a plain one. I think there is enough protein considering the egg so I didn't worry. Her little cup has ranch dip for the carrot sticks. In case you are wondering why Amy didn't get any cookies -- she doesn't like them or anything else that I offered her instead! She was happy with her lunch as is.
Everyone is on midterm break right now and these lunches are actually from last week. I am very busy with work and haven't had time for much else. I am still packing fun lunches as Amy and Rose are at ballet camp, but I haven't been taking any photos. Since I have been working late, I just have not been getting up early enough to snap a picture. They actually have to leave as early as a school day since ballet camp is a farther drive than the 5 minutes to school!
Some items I used: