Emily is one! I can't believe how fast this year has gone. It seems like just yesterday she was a teeny tiny baby keeping us awake at night. Here are some photos of her birthday party. We had a cute bugs theme.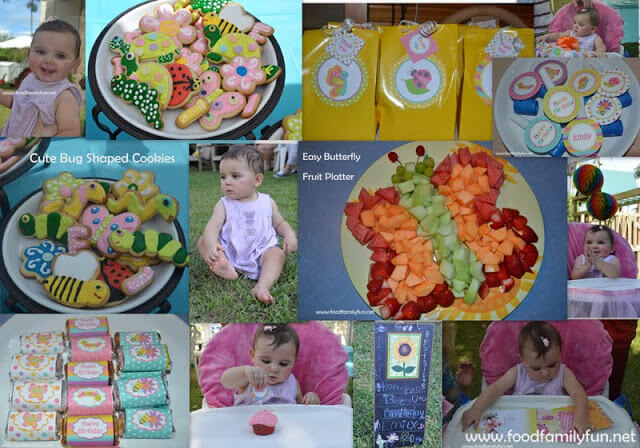 She had a blast! It was a small, family only party on a budget. My Mom and Aunt helped me get organised on the day and my cousin came and put up the decorations for us :) No matter how small the party is, it always seems like a lot of work when there are 4 little ones underfoot and very excited! I am very thankful for the extra help.
I made these cookies on Saturday. I must say that a made a bit of a mess in the kitchen but it was fun and I think they came out so cute! I used
20 second Royal Icing
from Sweet Sugarbelle and the mess was from making all of the different colours and trying to bake and decorate cookies with so many little helpers.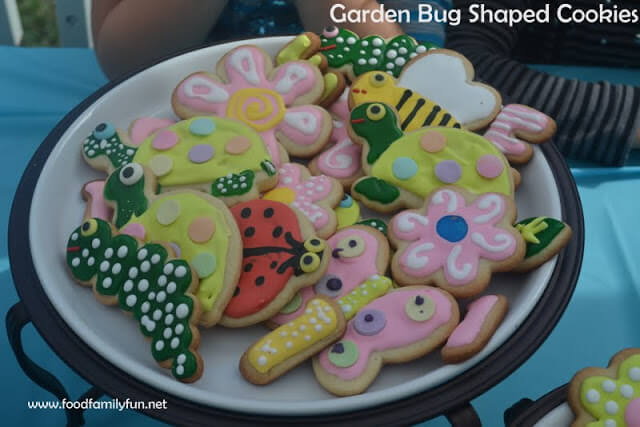 The party food was very simple: assorted sandwiches, veggies and dip, fresh fruit, malasadas (which are yummy Portuguese Doughnuts that my mother in law made -- THANK YOU!), cupcakes, birthday cake, cookies and some chips and salsa.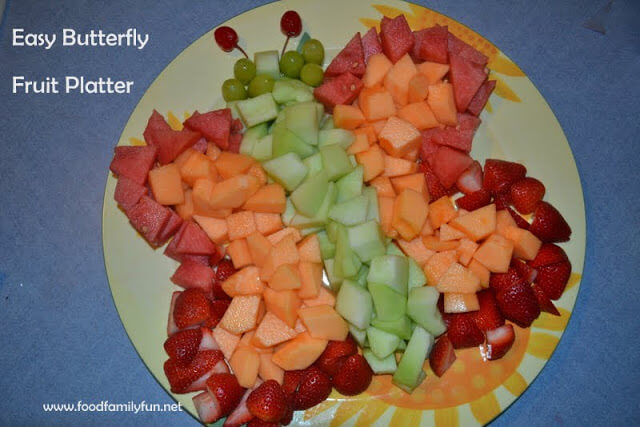 A few weeks ago I was browsing the internet for some fun party food ideas. I came across a fruit pizza shaped like a butterfly on
Hungry Happenings blog.
I didn't want to make that but I thought it would be a perfect way to display some fresh fruit. I really just freehand arranged the shape and didn't use any sort of template.
The theme was cute bugs and I used some party printables from
Cupcake Express
to decorate and add a few special touches. These are the party bags, blowouts and Hershey's miniatures that I made using the printables. There really are so many things that you can do with the printables set but I didn't get a chance to make a full use of the files this time.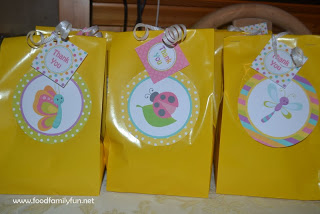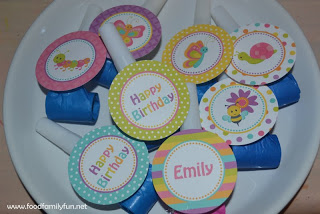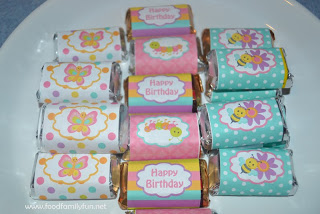 Emily's older sisters wrote her a nice birthday sign on a chalkboard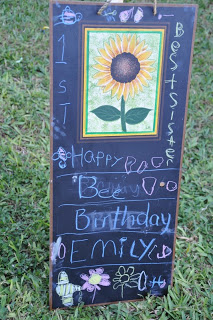 I also made a nice banner and some cupcake toppers. I have a lovely photo of the cupcake toppers but there was an icing fail on the cupcakes. I almost didn't post the photo but it's too funny not to share. It was a very hot and humid day and for whatever reason my pink cherry, super delicious icing started to slide right off the cupcakes! I never got a before photo -- so here's an after. I tried to rearrange and put the "best" ones in front. It was only downhill from this point. haha. The ones that semi-survived were very yummy!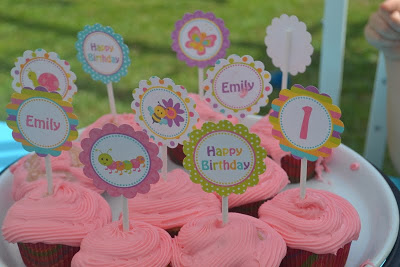 Here's the birthday girl enjoying her very own cupcake!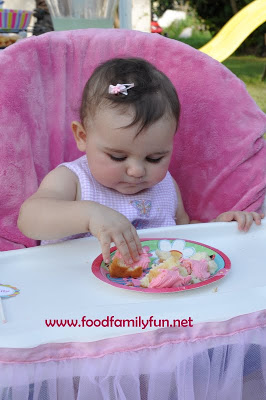 She was very happy all afternoon.