It's getting closer and closer to candy night! I can't wait to take the girls trick or treating. Today is another lunch blog hop to get us all in the fun Halloween mood. Click the button at the end of the post to hop along to the next blog.
Here's Amy's lunch packed in a planetbox
carrot sticks, green grapes, gummy vitamin
strawberries & cantaloupe, witch finger sandwiches (ham) with fruit leather fingernails
She told me that she wanted lots of picks and things. So she has 2 bat picks, 2 witch fingers and 2 ghost rings
Halloween lunch for Rosie in a planetbox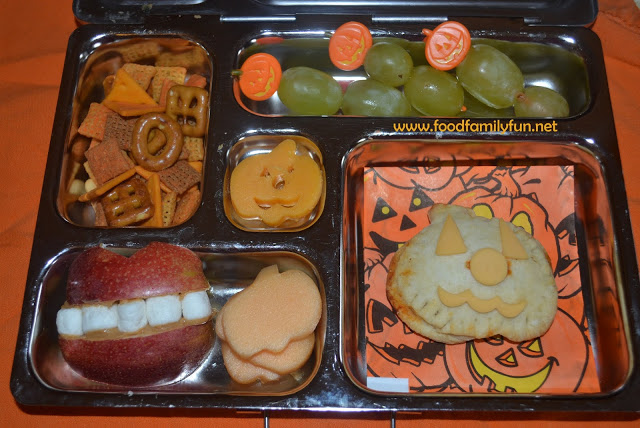 Chex Mix (sort of looks like Jack O Lantern parts), green grapes, apple Jack o Lantern Mouth,
cheddar Jack o Lantern, pumpkin shaped cantaloupe, Jack o Lantern Pizza Pocket
The paper behind is a small wax paper treat bag.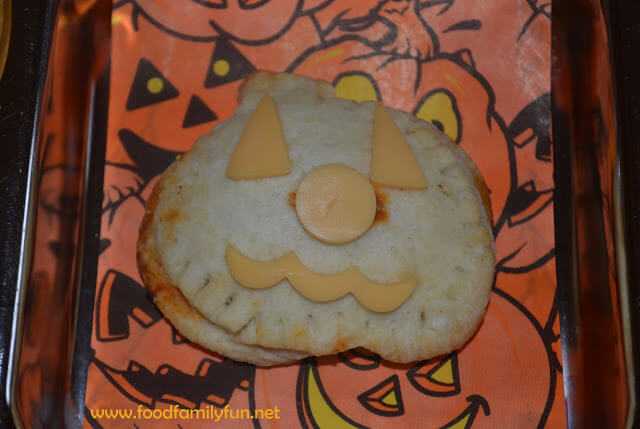 Last night for dinner we had cheese & onion pasties. I used a small amount of the shortcrust pastry to make some pizza pockets for the girls. It was very easy, cut out pumpkin shapes using a cookie cutter. Put a small amount of pizza sauce, one slice of pepperoni and a bit of grated cheese on one pumpkin shape. Cover it with another pumpkin shape and seal the edges with a fork. Cut a small slit in the top to allow steam to escape, brush with milk and then bake at 400F for about 15 minutes. Yum!
Heidi's EasyLunchboxes Halloween Lunch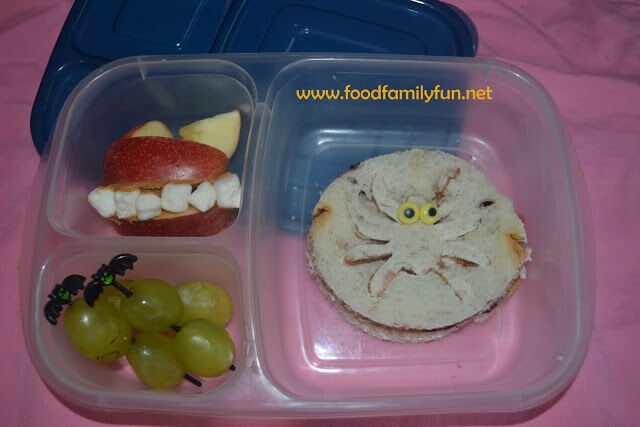 Heidi had apple monster mouth, grapes and a spider PB & J
The original plan was to draw a spider web on the circle cutout with a food safe marker and then stick in a spider pick. Well, my marker skills were lacking today so I flipped it over and used a spider cutter to cut a spider out and then left it all together so there was enough sandwich. The spider alone wouldn't be enough.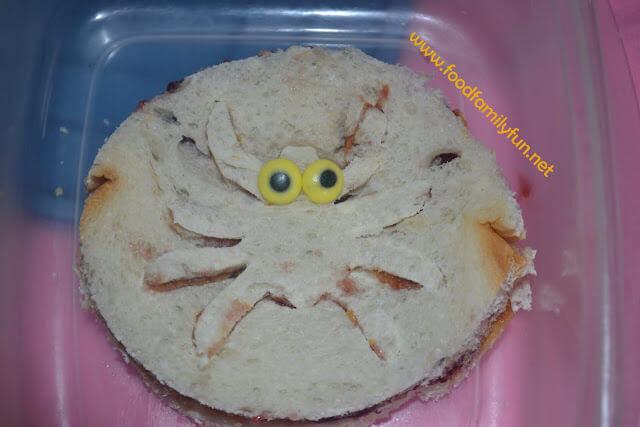 Of course the other side with the messy marker didn't have the little crusty bits of bread showing - DOH!
If you would like to see all of my Halloween lunches, crafts and activities
click here.
Now on to the hop! Click on the button below to hop along to the next blog. I expect there will be lots of fun and creative Halloween lunches to see. I can't wait to hop through them all myself :)