As mentioned last week I am joining in on another blog hop with the Bento Bloggers and Friends. There are actually 4 hops in total this year. I have only joined in on the middle two, the last one will be on Dec 19th. You can find
links to them all here
.
This is Amy's Jolly Holiday lunch.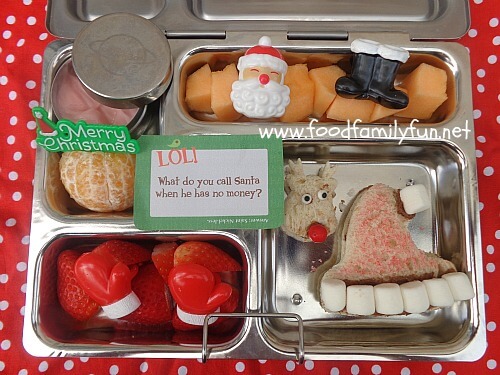 Amy has the jolly old man himself for lunch.
Her sandwiches are chocolate and peanut butter spread shaped like Santa's hat and his best reindeer pal, Rudolph. She has lots of fruit - half a clementine, strawberries and cantaloupe. Trix yogurt and greek yogurt combo complete her lunch. It was time to grocery shop so we were out of all of the raw veggies that she likes.
Now on to the fun holiday blog hop. Click the button to hop on over to
Bento Days
to see what Jean has made. There are 15 blogs to hop through. When you hop back to me you will have seen them all!