Really fun character lunches for the girls today. I started out thinking that I would make one really fun lunch with a Merida sandwich for Rose, and then some regular. faster and less work fun lunches for the other two. Well the others saw it and they all wanted Merida too! I should have know this would happen. Good thing I was up a little earlier this morning likely due to the impending Day Light Savings time change.
Rose's Lunch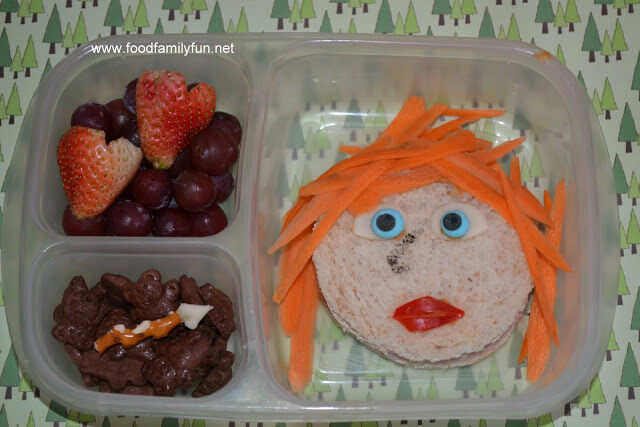 grapes & strawberries, Merida sandwich, Mor'du chocolate teddy grahams
I actually saw a cute
Merida sandwich
the other day and that was the inspiration for this one. My carrots were short and I couldn't really make them curly but I think I still got the wild look! I stuck most of them down with peanut butter and told the girls not to throw their lunches boxes around today. We'll see what happens! Rose liked her lunch so much she wanted me to take a picture of her with it.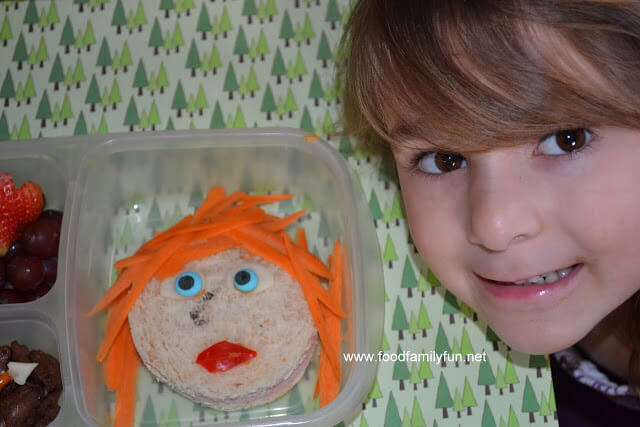 Amy's almost identical lunch - can you spot the main difference?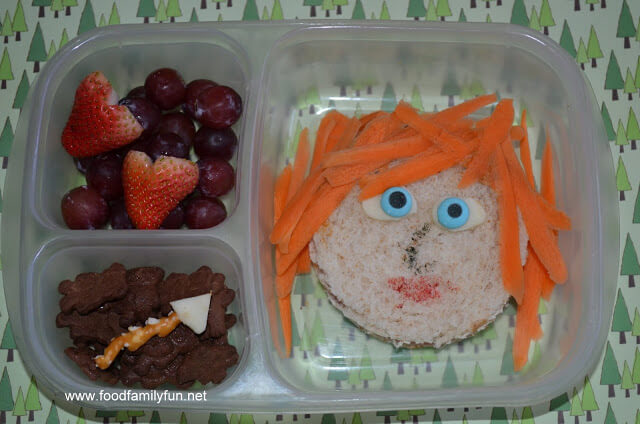 No red pepper lips. She doesn't like red pepper and she asked "Can't you colour on the lips or something?" Well, I tried. The red pepper ones look better. I somehow lost my best food markers and used the backup Wilton ones. They just don't work as well for me. Once it was done that's it, no do overs! I had already put the hair on etc and was not about to flip it over and start over. It was getting close to leaving time.
Heidi really wanted a fun Merida sandwich too but I was out of carrots! I had already prepared carrots, celery, red peppers, orange peppers & grape tomatoes for snack at school today so they were all used. Aha! Another easy idea. cheddar cheese hair.I made a different style entirely with a cheese face too. I didn't spend much time on this one I must confess.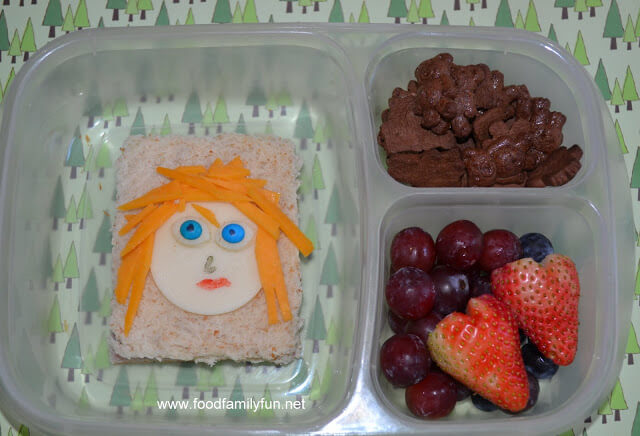 Ham sandwich with a Merida cheese topper, Mor'du teddy grahams, grapes, blueberries, strawberry
This was actually a difficult morning in the house. The baby was up playing ALL NIGHT! I have no idea why. My husband ended up taking the second shift of trying to get her to sleep/playing in the wee morning
hours. Eventually she went to sleep but then he slept in and didn't get up to help with getting the others out the door. I feel like I was Supermom today -- chop, chop, chop - round
up the kids and remind them to put on their shoes, brush their teeth etc. You know the drill. Mine seem to need a little reminding to get back on track every 5 minutes! They were literally playing all sorts of games this morning. Very active imaginations. There was also a discussion about what to wear for Alphabet day and the usual animated chatter that ensues which equals a stoppage to getting dressed! Plus they had a slow start since it's the read-athon and they woke up and started reading right away. I'm surely not complaining that Amy & Rose want to read - but I would have been happier if they were dressed and had eaten their breakfast first. Eventually they all made it to school - in the nick of time and hopefully didn't shake up their lunch boxes too much! I predict that they will eat everything today :)
Shared on: