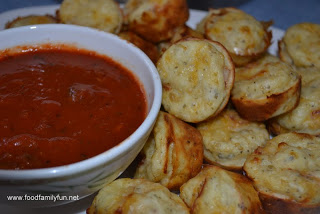 I found this recipe on pinterest. It's from a blog called lick the bowl good. It seemed super easy and sounded like a good lunch choice for when Rose is in a no sandwich mood. I made these on a Sunday and had to quickly save 4 to put aside for lunch as we all gobbled them up! I must make another batch with just cheese and no pepperoni for Amy. She doesn't like the pepperoni because it's too spicy! It made exactly 24 mini pizza bites for me.
3/4 cup flour
3/4 teaspoon baking powder
1 tablespoon Italian seasoning
pinch of salt
3/4 cup milk
1 egg, lightly beaten
1 cup Kraft Shredded Four Cheese Pizza blend (mozzarella, provolone, Romano, Parmesan)
1/4 cup grated
Parmesan cheese
13 slices pepperoni, diced
1/2 cup marinara sauce or pizza sauce
Preheat oven to 375F. In a large bowl, mix together flour, baking powder, Italian seasoning and salt. Whisk in the egg and milk. Add the cheeses and pepperoni. Let stand 10 minutes. Stir the batter.
Spray a 24 count mini muffin tin with non stick spray. Using a mini ice cream scoop (or tablespoons) fill each muffin cup about 2/3 full with the batter. Bake in the preheated oven for about 20 minutes until they have puffed up.
Heat the marinara sauce and serve warm or serve cold in a lunch like this one. These won't last long as they are simply delicious!