The Olympics Opening Ceremony is today and some bento blogging friends have arranged a fun blog hop. At the end of the post click on the link to see some more fun Olympic themed lunches and snacks.
I made this quick lunch for Amy to take to camp. The Olympic rings seemed like they might not be filling enough so I included a few mini sandwich rounds that I had punched out to make the rings. I included the horse shaped melon to represent one of the few athletes we have in the Olympics.
Olympic Lunch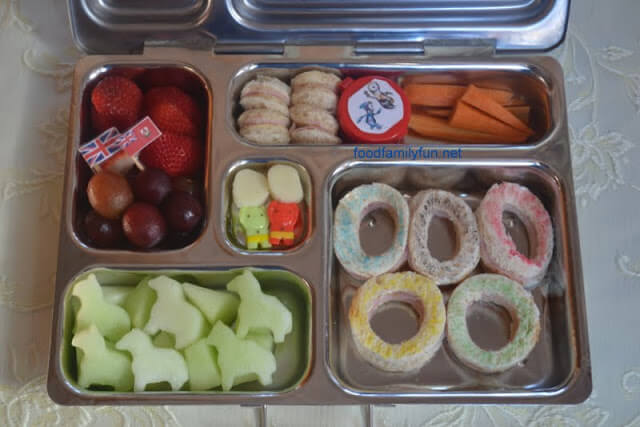 strawberries and grapes, mini sandwiches, sunflower seeds in the mini cup, carrot sticks
horse shaped honeydew melon, cheese rounds, Olympic Rings sandwiches
I made some homemade picks for these. It was really simple. I printed the Union Jack and the Bermuda flags on some paper and then I wrapped them around a couple of toothpicks and covered them with tape. These are only one time use picks but they were fast and easy to make. The red mini cup was a plain red one, I printed the London 2012 mascots on a piece of label paper and then created a themed cup. The sticker peeled off after and then I had my plain red cup back to use again.
Olympic Flame snacks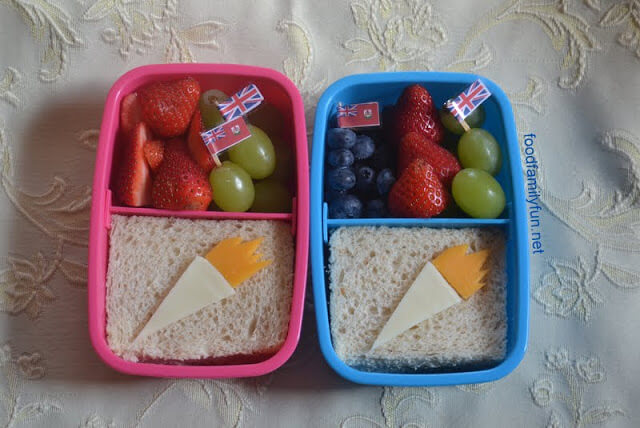 berries & grapes, sandwiches with cheese Olympic Torches
These were a couple of quick after swim snacks. We had a week off from swimming lessons and they have resumed this week. It's been a busy summer so far, I am looking forward to a little relaxation in August before the back to school rush begins.