Who knew this would be such a hit!?! I decided to make a Halloween sensory bin for the girls to play with outside this week. They LOVED it. It was very inexpensive to make since I had a ton of misc. Halloween items about; leftovers from Halloween parties past, trick or treat goodies and some pom poms from our craft bin. The only purchase was the black beans and yellow split peas.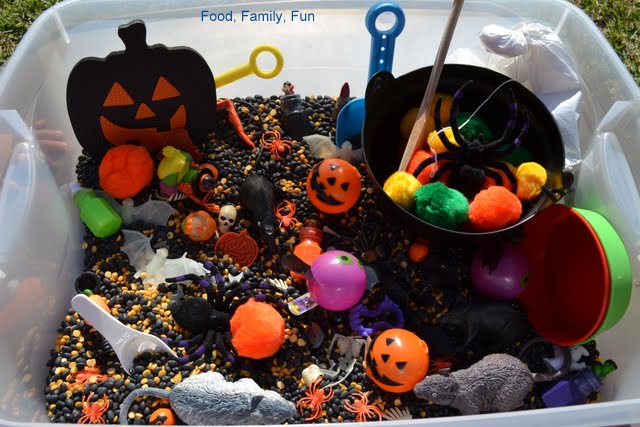 There are too many items in here to list, but I will tell you about the most popular.
Foam pumpkin with pop out features (from a Halloween hopscotch game we have), plastic cauldron, scoops, wooden spoon, shovels, rats, bats, spiders, plastic flies, skeleton bones, pom poms, plastic witches fingers & plastic fangs.
All 3 girls spent a long time making up witches brews and hiding the "gross" items by covering them with the black beans and yellow split peas and giggling as they served me. I made sure that we played with this outside after the coloured rice disaster of months passed. It was surprisingly not very messy. Probably because the beans and peas are much larger than the rice, and I did remind them that there wasn't any more so if they spilled it all in the grass there wouldn't be enough left to play with tomorrow.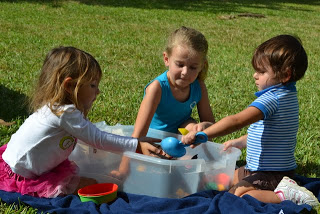 I think I'll make some more of these bins in the future -- but I am staying away from the rice!