Ahoy there mateys! Do ye know wha' today is lads an' lasses? It's talk like a pirate day! Me sent this here lunch t'school with me wee scallywag. Me hopes she has a jolly roger good time at lunch.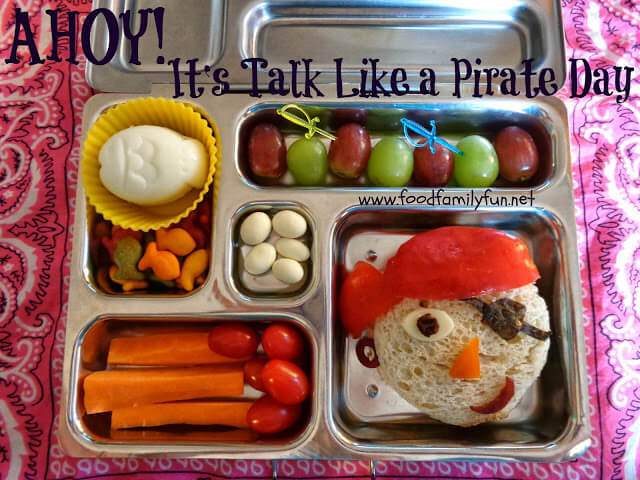 Rose's vegetarian lunch includes a boiled egg shaped like a fish, some goldfish crackers, red and green grapes and yogurt covered raisins for a sweet treat. I also packed carrot sticks and grape tomatoes. I made her cheese sandwich in the shape of a pirate! I didn't have any pirate themed cutters and I felt like I needed a little inspiration so I thought back to my
Funky Lunch
workshop. I used a circle cutter to cut the sandwich, and used red pepper for the bandanna, orange pepper for the nose, cheese and raisin for the eyes, fruit leather for the smile and earring. The eye patch was cut out of Nori with a pair of kitchen scissors.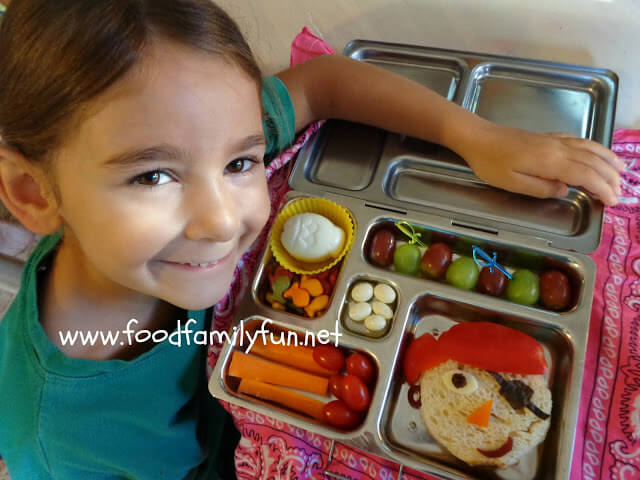 Rose was so happy to see her lunch in the morning that she wanted a photo with her lunch. She also decided to take that pink bandanna for her cloth napkin!
This lunch is part of a blog hop. Please click the button below to see the fabulous Pirate lunch that Rebecca from
Bentos on the Bayou
made.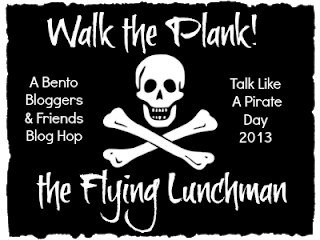 After ye've sailed 'round this hop, hang on to yer sea legs!