Simple lunch for Rose.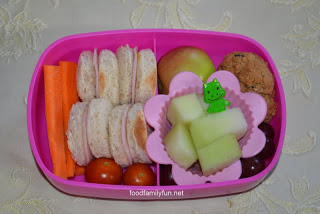 carrots sticks and cherry tomatoes (both from our garden)
mini ham and mustard sandwich rounds
mini apple from Great Granny & Great Papa's tree
oatmeal cookie that Great Granny made
honeydew melon & a few red grapes tucked around the edges
This was really easy to put together. Rose was very specific that she wanted very tiny sandwiches. I was able to cut 4 circles out of one slice of bread, just to give you an idea.
She picked the cherry tomatoes from the garden herself before school :)
She ate almost everything!
Shared on: