Happy Star Wars Day! This fun Star Wars themed lunch is for me!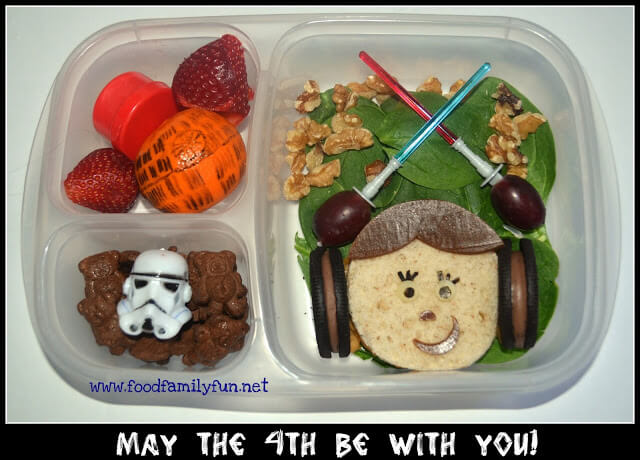 strawberries & a Death Star clementine. Ewok teddy grahams under attack by a Stormtrooper
Princess Leia cheese sandwich with oreo hair buns, strawberry fruit leather, Vermont cheddar and nori features, on a bed of spinach & walnuts Light saber picks hold a red grape each.
The strawberries were tossed on the spinach to make a yummy spinach, strawberry & walnut salad. The little red dip cup holds balsamic vinaigrette. Yum!
There are a lot of firsts in this lunch, first time drawing on a clementine -- trickier than you might think!, first time using nori (eyes and eyelash details on Princess Leia - easy to work with using tweezers), my first time eating a spinach only salad. Yup, it's true. I am not usually a spinach lover. My husband started sneaking spinach into our regular lettuce salads and I didn't even notice! Now I am giving the spinach only salad a go. It's only a small salad as you can probably tell - I think I will enjoy it.
What else is special about this lunch? This lunch post is part of a blog hop. My Bento Bloggers and Friends group has gotten together and planned a fun blog hop of Star Wars lunches in honour of May the 4th. Click the button below to hop to the next Star Wars lunch. Next up is Lunches For For a Kid. In fact, this theme is so fun that lots of people want to join in! So there are TWO hops. When you get back to my blog you will have seen all of hop #1. For Hop #2 use the smaller button below to hop on over to the Dark Side...
Once you've completed the hop...
shared on:
Vote Now!