This week's theme on Muffin Tin Meal is a fun one! Groovy 60's. I made this groovy lunch for Heidi.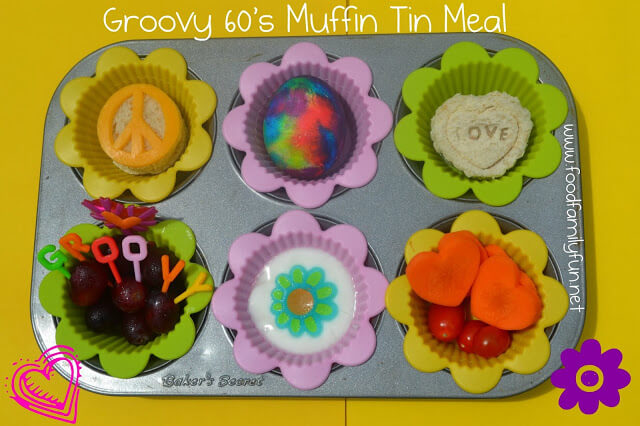 Groovy Grapes, Flower Power Yogurt, Heart Carrots and Tomatoes
Amy, Rose & Heidi went out on a modelling call this morning and I made them some little snack bentos to take. They went out for ice cream after so they weren't terribly hungry at lunch time. I made one muffin tin meal for Heidi because she was still hungry, plus several boiled eggs because they are a favourite and they would all want one as soon as they saw them. Most of this lunch was eaten plus all of the boiled eggs. Here are the others.
I did these the lazy way.
Click here for a full tutorial
. After I unwrapped the first egg I just used the same dye filled Viva paper towel to wrap the others. You can tell the first two have more of the individual colours showing and then the last two are all blendy. I think this is a fun way to dye Easter eggs - I must remember it next year!
We are not all that experienced in dyeing eggs. When making lunch, I made these first and as soon as they were dry we ate them. It took only the amount of time to finish making lunch for them to be OK to peel. I *think* if you put dyed eggs in the fridge and then take them out to pack in lunch they would sweat and possibly the dye would run. I am not positive but I would test that out if you wanted to make these for a packed lunch.

Edited to add: there have been a few questions about the egg -- I dyed the shell only, once peeled the boiled egg inside was still white.
Check out some other Meatless Lunches on:
Vote for this MTM on:
Here are some of the items that I used for lunch today: