Day 2 for Amy was a salad lunch. She picked everything.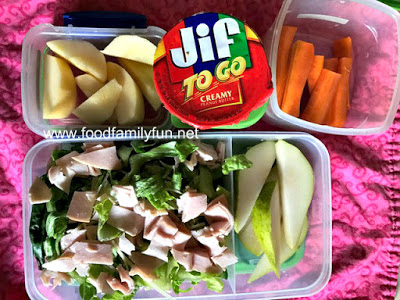 Snack is apples, carrots & peanut butter.
Her lunch is a Ceasar salad with no croutons, the dressing is in a container under the peanut butter
with a side of pears.
This is a Rubbermaid lunch blox divided container, they aren't huge but it was still a bit too much for her. To be fair I did pack quite a bit of lettuce in there. The carrots are in a cube sized Sistema snack container and the peanut butter fit right on top in a little cup that sits under the lid. I think we will like that container this year! I bought all of these containers at Lindo's Devonshire but you can find them at lots of places - including Amazon!
Here are some items that I used when making this lunch.
Disclaimer: if you make a purchase using the links on my site I may earn a small commission. Thank you for your support!