Rose is on a bit of a vegetarian kick lately. We could all use a few meatless meals so everyone had similar vegetarian lunches packed in their new Yumboxes. This is Amy's very easy to pack vegetarian school lunch.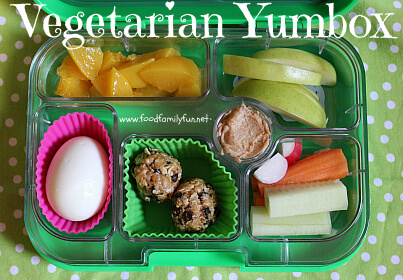 Most foods in this lunch were considered her favourites so I thought I could sneak in a few new tastes like the dip and the radishes. Amy didn't like either, but her sisters sure did! Rose & Heidi had extremely similar lunches. Rose had pineapple instead of peaches and Heidi did not have radishes or cucumbers.
They ate everything from their lunch save a few bites.
This lunch was extremely fast to pack! The boiled eggs were made the night before using
this fool proof method
and I had also made the energy bites ahead of time. Packing all 3 lunches in the morning took less than 10 minutes! Now that is FAST.