These are from Wednesday. It was a busy morning and I made both of these lunches, plus 2 snacks and 2 drinks in 15 minutes. We were running a bit late so I didn't get a good picture of everything lined up. Just one each of their individual EasyLunchBoxes. I also didn't make Heidi's lunch in the morning like I usually do. When she walked in the door from school at lunchtime and had to wait about 5 extra minutes for her lunch, boy was she unhappy with Mommy!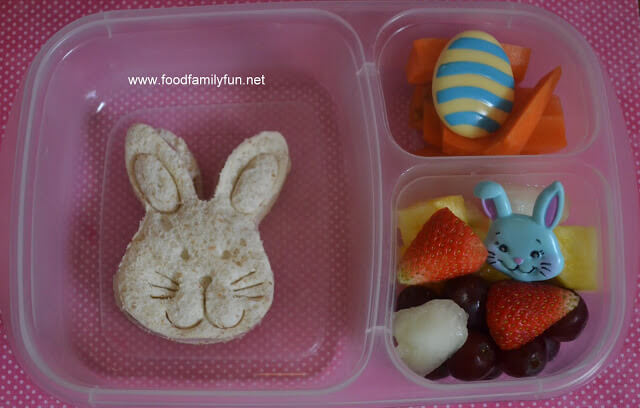 Lunch for Amy: Ham sandwich, carrot sticks, assorted fruit - grapes, pineapple, strawberry (from our garden!) and honeydew melon
I had been trying to stay away from the continual ham sandwich lunch and have been mixing it up a bit in their lunchboxes lately. On Wednesday, I did not have a plan in mind, there were no decent leftovers in the fridge and as we were running late I caved in and went back to their favourite sandwich. Just yesterday, I got a new cookbook from Amazon. Cooking with Trader Joe's Cookbook - Easy Lunch Boxes. There are lots of interesting things to pack for lunch in there - and really you don't need to have a Trader Joe's nearby to use the ideas. I certainly don't have one near me! Hopefully Amy will see some things that she likes in the pictures and I can try some new lunch options.
The same lunch for Rose plus I added a few grape tomatoes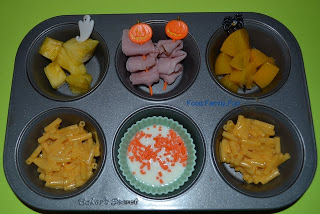 I realise that her sandwich looks little messier than Amy's but it's because I used the off cuts of ham after I cut out Amy's bunny and just tucked them into Rose's sandwich. No waste! This bunny is from my favourite cookie cutter stamp set. It's very fast to stamp the bread and it makes for an appealing end result. No peanut butter gluing of eyes, noses and whiskers. Saves 3 minutes at least!
shared on: