I finally timed myself making lunch. It took me 20 minutes to make 3 lunches. I was kind of rushing - but only because we woke up at 8 am today!! I am trying to send lunches other than sandwiches and here are taco lunches by request. everyone had the same -except Amy who wanted cilantro mixed in with her lettuce.

Leftover taco meat, lettuce, taco shell, cheese & cantaloupe
I feel like I should have tucked some carrot sticks in there or something extra but I was having a hard time getting everything to fit. I think I'll look up some other taco lunches and see how other people get them to fit nicely. At the very last minute when I was packing up I added a granola bar to Rose's lunch. She doesn't take a morning snack as they have a classroom community snack. I was worried that it might not be enough food if she's hungrier at lunch time because she didn't like the morning snack. Amy already takes two snacks and rarely eats them both so I knew she would have extra in her lunch. Her snacks today were a boiled egg & some more cantaloupe, plus her favourite goldfish crackers. They both had little forks packed in their lunchboxes too.
I really needed to go shopping. We were out of almost all fruit. Including everyone in our family (4 kids, 2 adults) we ate an entire honeydew melon yesterday! Plus grapes, the last of the pineapple, the last of the mandarin oranges, and the only two ripe strawberries in the garden. The amount of fruit and veg that we go through as a family is staggering considering that the girls are still little. I can't imagine what it will be like when they are all older.
Here is the start - timing with the ipad mini stopwatch. I LOVE this
ipad mini case
. Each of the girls has their own colour so it is easy to identify them at a glance, plus the stand is pretty awesome too - it works in both portrait and landscape. It's probably not the toughest as far as protection goes but they have all survived the usual wear and drops of young children and for that price it's fabulous.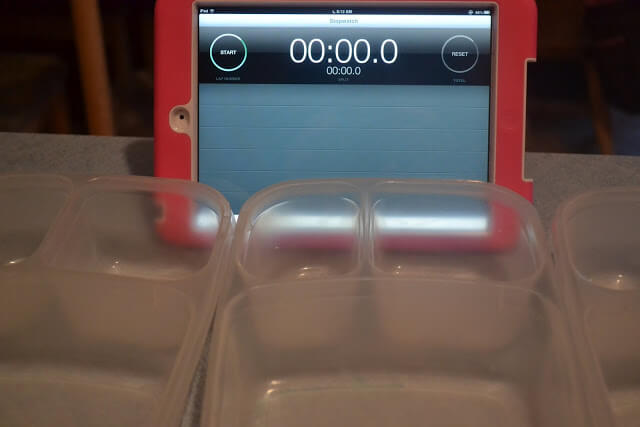 And here is everything that I finished for the girls' lunches and the timer.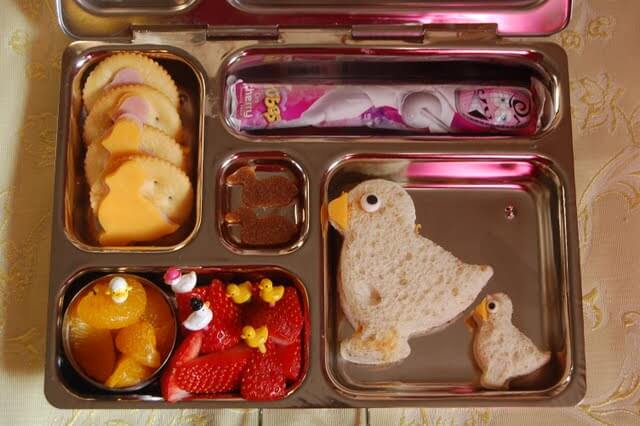 So that's 3 lunches, 2 drinks and 2 snacks in 20 minutes and 19.6 seconds. Heidi's lunch on the far left will stay in the fridge until she gets home at lunch time. The meat was a dinner leftover but the tacos were baked from the box this morning. Do you know what took me the most time this morning? Finding my
Easylunchboxes mini dippers
! They come in a package of 8 and somehow I can only find 3 cups and 2 lids! I sorted out almost all of my bento storage drawers on the weekend so here's hoping that the rest are in the bottom of the last two! Interruptions were a minimum today as I helped the girls get organised first and only stopped to give reminders about what they needed to do next - shoes & socks, brush your teeth, check that your pouches have everything you need for the day, choose your coats etc...
I think my usual, I woke up on time, lunch making duration is 25 -30 minutes to make all three. Also, since Heidi doesn't need hers to go out the door with her in the morning I sometimes spend a little extra time on hers when everyone has gone and the house is quiet. You know, if I'm in the mood to try something fancy :) At that point, I also tackle lunch for my husband if he's taking lunch and lunch for the baby if the afternoon will be busy.
Since I was wondering how I could do a better job of packing these lunches to fit more food I did a little inquiring with some other lunch blogger friends. Perhaps I should have assembled the tacos and then I would have had one spot extra for some extra veggies or using tortilla chips instead is also a nice idea like these lunches from
Keeley McGuire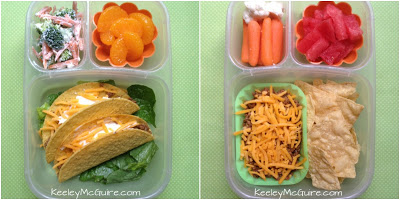 Here are some other taco and nacho lunches packed in EasyLunchboxes:
Keeley McGruire - Taco & Nachos lunches
More Than Your Average Mom - Mini Nachos
Lunches Fit For A Kid - Spaghetti tacos
Lunches Fit For A Kid - Nachos
Tiny Princess Lunch Box - Taco salads
Lunch with Eyeness
Bentoriffic - Fiesta Bentos
Chaos and Confections - soft tacos in a Laptop Lunch
Shared on: