We're very excited to be watching the Euro 2012 football (soccer to the Americans) on the TV this month and supporting our family teams of England ( Just Me!) and Portugal (all of us :)). Yesterday Portugal won their game and have advanced again in the tournament. To celebrate I made the girls each a red and green lunch this morning. There is one more week of school for Amy & Rose but the Friday hot lunch program has ended.
Amy's lunch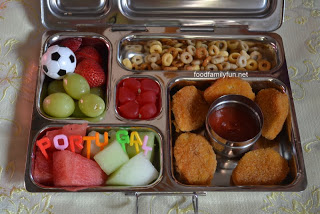 strawberries, green grapes, watermelon, honeydew melon
cheerios, cherry fruit snacks, chicken nuggets with ketchup
Rose's was identical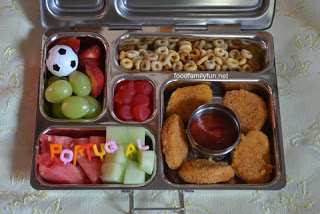 Heidi has already finished school and she received a nursery school leaving certificate in a little ceremony on Wednesday. She will join her sisters at "big school" in September. We're looking forward to having all three girls in one school!