The first week of back to school went well! Girls did a great job of getting ready in the morning. Although the wee one was a little slower than the rest ;)
This is Emily's lunch from the first day of school. It's packed in her Yumbox lunchbox.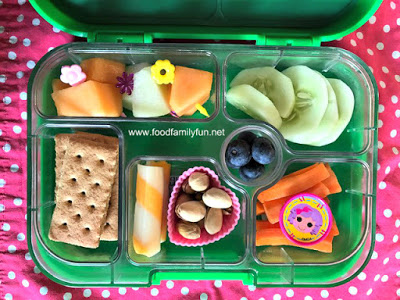 Honeydew & Cantaloupe, Cucumbers & Carrots
Graham Crackers, Cheese Stick & Pistachios and a few blueberries
She ate almost everything - no surprise there since she picked her lunch! She picked her "flair" too.
Everyone else had school hot lunch on the first day -- I think it was pizza.
Hope your back to school time is going well. I have actually been away for work all week so Dad has been on lunch duty. He told me he has made salads, wraps and sandwiches.
It's hard to find time to blog but I do have quite a few pictures from the first week so I'll do my best to share them all. My girls do like looking back at their lunches and I do too!
Here they are - M1, P5, P4, P2!
Here are some items that I used when making this lunch. The yumboxes come in different configurations and colours as shown below. They can also be found at Lindo's Devonshire and People's.
Disclaimer: if you make a purchase using the links on my site I may earn a small commission. Thank you for your support!