This time of year is so busy for us. It's a little tricky to keep up with lunch photos and I must admit that I have scaled back the cuteness a tad in the girls' lunches. I made these lunches yesterday and suddenly realised that there are only a few days left of school! The time has flown by so quickly.
Here is Rose's lunch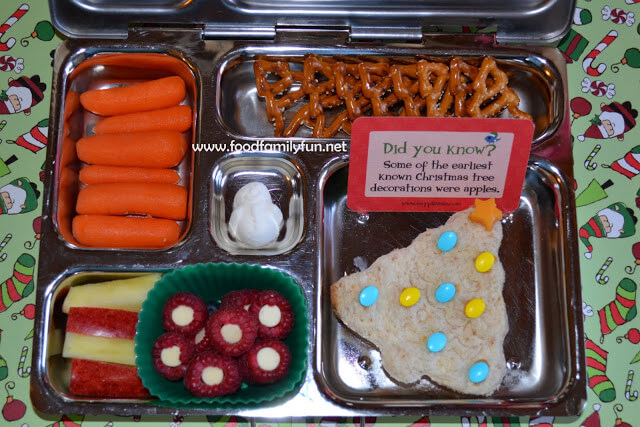 carrot sticks, apple slices, raspberries with white choolate chips, snowman marshmallow
tree shaped pretzels and a Christmas tree sandwich & a LunchBox Love note about Christmas trees
I love these little notes and the girls do too.
Amy had almost exactly the same as Rose but there was not enough time so I took one photo only. She wasn't going anywhere near those raspberries or pretzels so she had goldfish and extra apples instead.
My bento blogging friends are having another hop and this post is part of the hop. This time it's a holiday themed hop spread out into three shorter hops over three different weeks. This is week two. At the end of the post click on the button to hop through all of this week's hops and then also check out the
Bento Blogger's and Friend's Blog
to check out Week 1 (live on December 6th) and Week 3 ( live on December 20th).
Heidi's lunch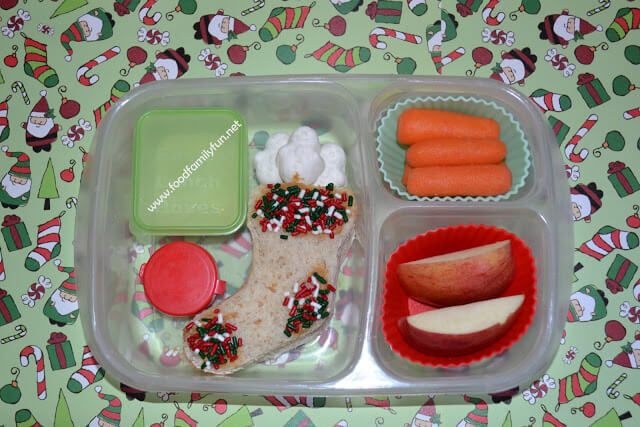 carrots sticks and dip in the EasyLunchBoxes mini dipper, apple pieces
stocking sandwich with sprinkles and marshmallow snowmen
red mini cup with a gummy vitamin inside
I made Heidi's lunch a little later in the morning and left it in the fridge until she came home at midday. I have an activity at school every morning this week so we are even busier than usual. Yesterday I went with Rose's class on a field trip to a senior's residence and sang some songs and delivered holiday cards that the children made on Monday's craft morning. They sang a Baha'i song, Hanukkah Song, Kwanzaa Song and two Christmas Songs. They did a great job! Today is Amy's holiday musical concert and thankful lunch and Friday is her Creative Writing Workshop presentation where the children will read the books that they have written and illustrated this term. I am looking forward to the school break and spending some time at home with the girls :) Hopefully you will all enjoy a little break too!
Now onto the hop.
Click the button to visit
Lunch Snack and Sninner
to see what holiday lunch Tracie has come up with. If you keep hopping until you get back to me you will have seen them all. There are 17 fabulous lunch blogs in total.