This post containes affiliate links
As Back To School shopping gets into full swing, I am going to share with you some of my favourites in the lunch gear category, Containers & Lunch Bags
The main lunch container
Seriously, no one wants to open (or store) a bunch of different containers and their lids. No one wants to spend their precious morning time assembling the lunchbox puzzle with said containers to make them fit the lunchbag, all the while crossing your fingers that your kids can repack it all after lunch. Especially if you have more than one lunch to pack. These are my top picks for practical lunch containers that will not leave you frustrated. They will also save you time!
Planetbox - Launch, Rover & Shuttle
These are family favourites, the lid is attached, the compartments are divided, there are small dip/yogurt/applesauce sized containers that fit inside and seal shut without leaking, they are easy to open and close. Plus stainless steel is a breeze to clean (even if accidentally left in the car over the weekend - not that it has ever happened ;) ) Local friends in Bermuda - you can also purchase these locally at People's Pharmacy. Although I have had several requests, I am not organising a group order before school starts.
It's best to choose the size container by your child's appetite and food needs.
The
Launch
has 3 different sized compartments, is the deepest and best for large appetites, used most often by my husband, although I reckon it's great for athletic teenage boys.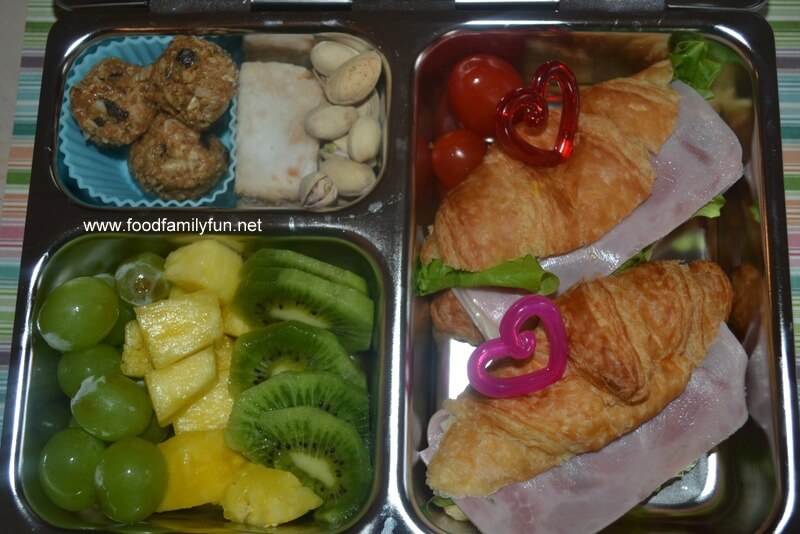 The
Rover
has 5 different sized compartments and is good for children around age 5 and up, although my children have used this since age 3, just not filled to its maximum. I have also used this many times for my lunch. It really can hold quite a bit of food. A sandwich or small salad can be packed in the square spot.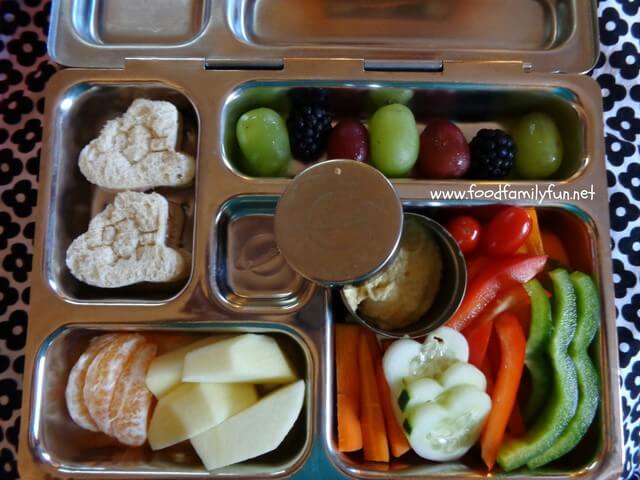 The
Shuttle
has 2 compartments, it is good for younger children, snacks, or small appetites. This is the newest Planetbox and I used it extensively for my 2 year old last year. Yet, my 8 year old also prefers this one as she does not eat very much.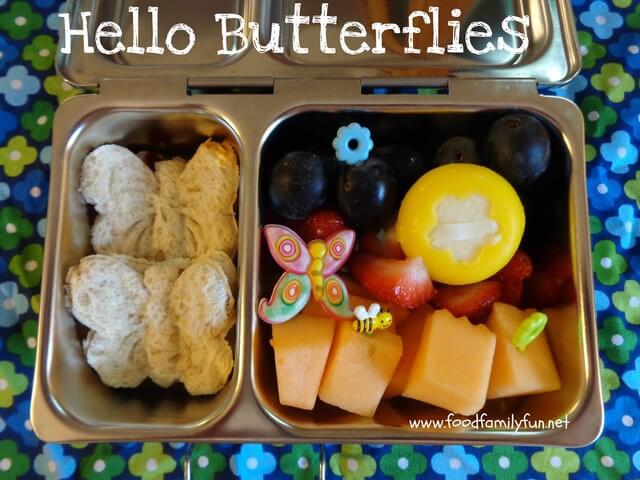 Another family favourite, made up of a case and an insert. The case lid seals each compartment so you can pack yogurt, applesauce or similar in any spot and it won't leak into the next one even if it's tossed around. Easy to clean but takes a bit longer to dry as the tray insert has a channel on the underside that can be tricky (no dishwasher here!). I do believe that there has been an upgrade and this has been partly solved with a solid bottom on the new inserts.
Original Yumbox
has small 6 compartments, best for non sandwich lunches with lots of variety. Although I have been known to fit some mini sandwiches in there.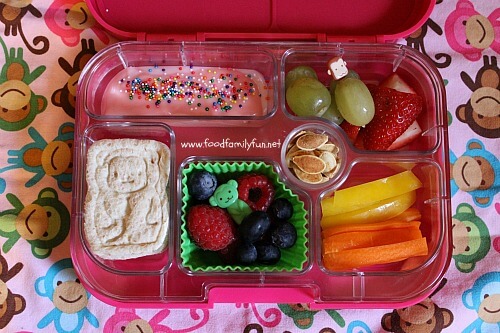 There's a new kid on the block from the Yumbox brand. The
Yumbox Panino
- this one has 1 larger compartment that will definitely hold a full sized sandwich plus 3 small compartments. I have one on order - can't wait to try it out!
Here are some examples of lunches that I have packed in the original
Yumbox
Used most often by my 8 year old and husband, or the whole family on a picnic. Easy to remove lids, not leakproof by design. They have mini dipper containers that can fit inside if you want to pack some dip or dressing. There are two colour sets - classic and brights, each lunchbox has 1 large compartment & 2 smaller ones.
We love it for:
packing full sized sandwiches, salad & leftovers (microwave safe),
outings where you might have to eat your lunch on your lap or on the move.
great for hot lunch day at school, ours bring their own container and the caterer fills it up.
lighter to carry than a stainless steel lunch container
lids are easy for young children to open and close
economical choice yet sturdy lids and containers
stack easily in the fridge and with different coloured lids you can colour code lunches for your family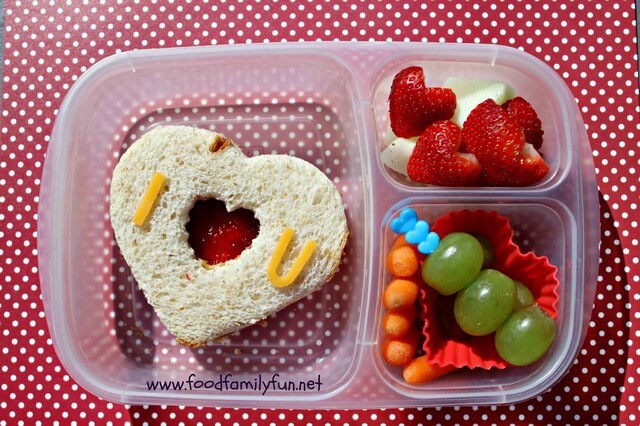 The volume that can be packed is significant, so you would just not fill them up for the younger set.
This is a great option for families that pack lunches ahead of time. You would only have a small upfront investment as packing ahead does require you to keep a larger quantitiy of containers on hand.
Here are some examples of lunches that I have packed in
EasyLunchboxes
Lunchbags
We have two favourites!
Planetbox Rover carry bag
This fits all of our planetboxes, one small snack container, cutlery, ice pack, cloth napkin & a drink on the outside. Hands down our favourite lunch bag. The girls need easy access to their drink for gym days so I love that it's on the outside and they don't have to unpack their lunch to find it.
My top tip - the aqua and pink colours dont't seem to stay as clean. In my experience, Purple, Red & Navy look great all year long. If you put them in the washer it will void the warranty. I do this anyway and mine look good inside and out. I have melted one in the dryer because it wasn't set to low heat. Wash & Dry at your own risk! It can also hold the Yumbox and Easylunchbox if your ice pack isn't too big.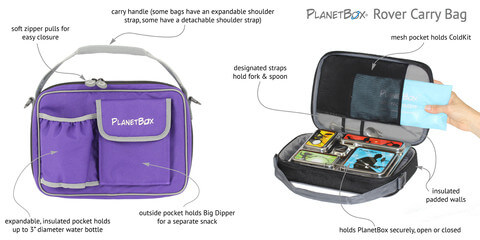 This can fit up to 3 Easylunchboxes if you're going out for a picnic, or on a school day - 1 easylunchbox, ice pack, drink, napkin and a couple of snacks. We love it for days when the girls have after school activities at school and need an extra snack. The Planetbox Shuttle or the Yumbox can also fit in this carry bag with plenty of room for extras. They come in 7 solid colours.
Here are some tips for DIY personalisation
.
We also have a couple of the usual sized, rectangular print or character lunch bags. I consider these more of a luxury item. Every other Friday is pizza day and the girls just bring snack, drink, napkin & a plate. While we can certainly use our usual bags, I like to make it more fun with a Friday fun lunchbag. In my experience, there isn't a lot of room in these lunchbags. If your child carries their drink seperately it could work as a regular option with a full lunch. Ours don't actually take a backpack to school yet so that would just be a nuisance. You can fit Planetbox Shuttle, or Lunchbots and many other smaller divided containers and a small snack. With a Yumbox or EasyLunchbox there wouldn't be room for much else, perhaps a napkin, super slim ice pack & cutlery.
Snack Containers
Planetbox come with their own - perfect for use in the outside spot of the carry bag. They don't snap shut so they should only be used in the planetbox or in the outside compartment of the bag, not loose in another bag for instance. There are LOADS of fun choices if you are sending a small snack. These are my favourites.