This post contains affiliate links.
Water bottles - truly my nemesis!
I am always on the hunt for the perfect water bottle. Seriously. Always Looking. Summer vacation is nearly over and it's time to get my Back To School Shopping finished. I thought I'd share with you my top tips for choosing a water bottle.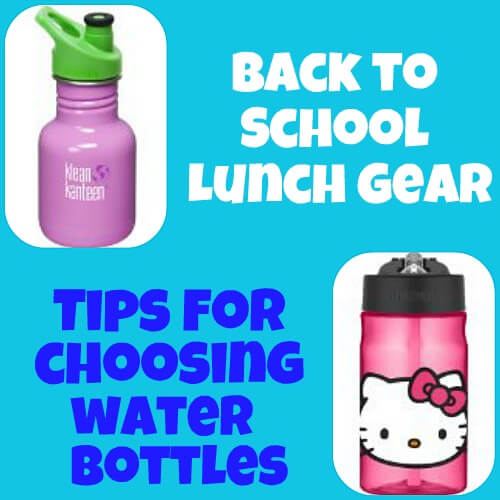 Wide mouth opening is best
- you really want to be able to fit a
bottle brush
in there to clean it, plus it's easier to add ice cubes if preferred.
Check the cap for odd crevices and parts that come in contact with your drink.
In the quest to manufacture the ultimate no spill cup some odd designs have emerged. If it looks too tricky to keep clean skip it. I have encountered some unexpected moldy looking parts of water bottles in my years and now I always check the caps.
Take younger children with you when purchasing - make sure that they can open (and close!) it properly on their own.
Extra Straws
- if you do have water bottles with straws always buy an extra straw kit to keep on hand if available. Cleaning them with
Dr Brown's Baby bottle brushes
is quite effective.
Smell it - I know this sounds weird - but trust trust me, there are some funky smelling water bottles out there. If you encounter a strong smell just don't buy it. Even if it says BPA free, food safe etc some of them just have an odd smell. Leave those ones at the store. Check stainless steel ones too - some of them have a lining.
I really want the following features in a water bottle - stainless steel, insulated, no straw, no spill/leak and easy for kids to open and close. I can't always get all of those choices so I compromise. The girls also like fun designs or characters on their water bottles so I get a couple of fun, yet practical ones too.
We made it through last year using mainly our
Klean Kanteens
, but they looked pretty beat up by the end and have been retired. This is not a judgement on the Klean Kanteens. I swear my eldest child lost one twice a week last year but thanks to
Mabels Labels
it was always returned from wherever she had dropped it. We'll likely go with these choices for this school year.