I need an intervention! Well maybe not a full intervention, but I really do have tons of bento supplies that I just need a little help to fully organise. I mainly use 3 drawers to store my frequent use items but here are all 5 of my storage drawers. This is a snapshot view as they are right now- some always look like "before" photos and some always look like "after" photos that's just how roll. HaHa.

This first photo is my most used drawer.It's conveniently at counter height and pulls out right next to my main workspace. It has all of my mini cutters, food colouring markers and some misc tools like sausage stampers (new!), sausage
cutters
, mini sauce containers, mini forks & mini spoons. Also on the far left is the paper inserts from the packaging materials of most of my cutter sets. It has some pictures etc and I like to look at them sometimes to give me ideas.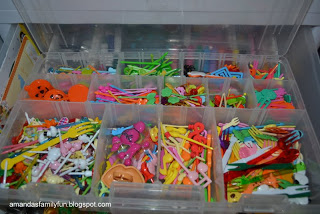 Also inside this drawer I keep a small compartmentalized container from the tool section of the hardware store. Is sits right on top of this stuff. In it are many of my picks that I use pretty much every time I make lunch. The alphabet picks are in their own container, plus I have a bunch of paper cupcake picks and appetizer party picks that I use on occasion. I know exactly where the picks go and can easily find the ones I want. There is also the odd cupcake topper and mini fork and spoon in here by accident.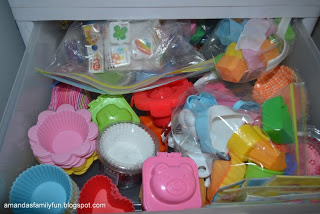 This might look like a junk drawer to you, but I assure you it's not! It's all of my silicone cups, mini cups and a bunch of egg and rice moulds. In the very back is where I keep paper cupcake liners for either cupcakes or
Muffin Tin Meals
, I've taken a break from buying these until I use them up. You can't really see it well in the photo but the front right has all of my baran dividers. This messy drawer doesn't bug me the most -- I know where stuff is and can find it fast. I would still like to arrange it to be more eye pleasing and inspirational though. Maybe I need some drawer inserts or something here.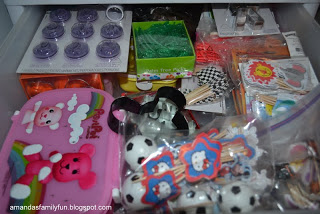 =
This drawer looks neater but it's full of infrequent use items. Some things are more for baking - fondant cutters, cupcake picks and appetizer picks which I sometimes use in lunches, I store my mini seasonal cutter sets here and the odd bento box that doesn't fit in the bottom drawer. I do not go into this drawer on a daily basis and it's actually higher than eye level which works out perfectly since I can keep my most frequent use drawers in a lower position.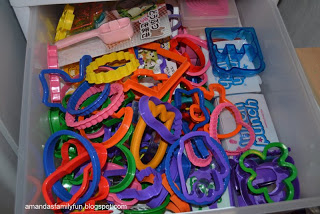 My nemesis! The cookie cutter and sandwich punch drawer. I just DO NOT know what to do here. I've recently gone through all of these and separated out the most obvious holiday ones that aren't likely to be used otherwise - they aren't even shown. I also separated out ones that aren't practical for sandwiches as they are too wasteful - not big enough to take up most of the bread, not small enough to use a second cutter alongside. I've put them in a second area to use when I make cookies. I love all of these and am not likely to be getting rid of any. In fact, I recently received a huge jar of cookie cutters from a friend who didn't need them anymore. I was so happy it felt like Christmas and I can't wait to use them. So basically I have a love.hate relationship with this drawer, It's always a mess but I love everything in it! During my recent sorting through of this drawer I found a few of my older favourites that I had forgotten about and rotated them up to the top so they can enjoy more frequent use.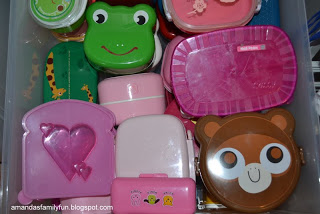 The next drawer down is my collection of bento boxes which, I admit, have just not been getting much love lately. We've been all about the
planetboxes
. I really must change it up a bit and use some of these. I have even been using the exact same pink sandwich containers in the bottom left every Friday for snacks on hot lunch day. Time to change it up and get motivated. It's not the best photo if you really want to peek into my stash, there's a whole row that you can't hardly see and they are stacked at least 2-3 high. I can still easily find what I am looking for in this drawer it's just tricky for a photo.
So there you have it - all of my lunch making supplies as they are stored right now.
Is all of this stuff REALLY necessary? Nope, you can create really cute lunches with a sharp knife, some creativity and a few items you probably have already (ie cookie cutters, saved mini cups and containers from snack foods and takeout, cupcake wrappers etc) Do I love all of these accessories and does it make the girls happy when they see these things used in their lunch? Yup. Is this creative outlet of cute lunch making one of the best ways to start my day? Sure is - so it's here to stay. There's even a few brand new items that I have yet to use as they arrived right before spring break. I'm getting a happy feeling just thinking about it!
So how do you organise your lunch making items and do you have a system for organising tons of cookie cutters?