For our Good Friday celebration at my brother's house the girls and I made a few sweets to bring along.
Cupcakes: we made one batch of cupcakes and
then decorated them all sorts of ways :)
Lammy cupcakes
Heidi's is on the left, Amy's is on the right. Rose was feeling sick so she didn't make one. These are from our children's cookbook that we are using as part of our
Family Fun List
activities #103 - cook every recipe in a children's cookbook.

Easter Basket cupcakes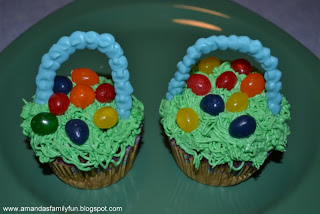 The girls put the jelly beans on. Amy did some of the green grass but it's kind of hard for her to squeeze. We used a Wilton #233 icing tip to pipe the grass. This isn't a new design for us I make these often at Easter. The basket handles are just piped candy melts. I usually use a template but couldn't find it fast enough so I winged it!
Bunny Cupcakes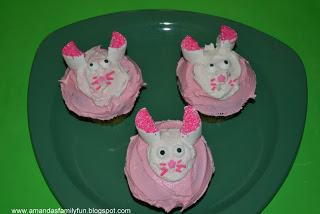 I saw this really cute idea online at
Toys in the Dryer
. It was a little bit difficult for the girls to help with. I did most if it and we were running late by this point so we had to be quick!
Easter Pick Cupcakes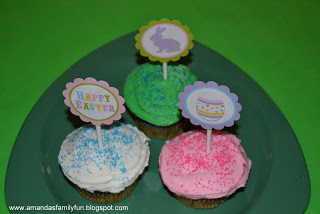 I found a very cute set of Freebie Easter Party Printables at
Amanda's Parties TO GO
. I will definitely use the rest of this set for a future Easter Party. This time I just made the cupcake toppers :)
Sugar cookies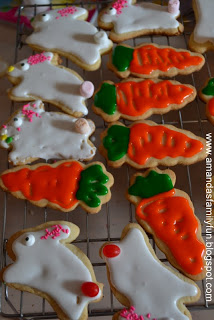 Simple sugar cookies. Everyone helped to bake them. Only Amy helped with the decorating. We put these together
really
quickly using Betty Crocker cookie icing. I was going to fill in the carrots a bit more for a complete icing cover like the bunnies, but then decided that I kind of liked the variation. Amy did some of the bunny icing and then added all of the embellishments -- eyes, ears, tails.
Pretzel Bites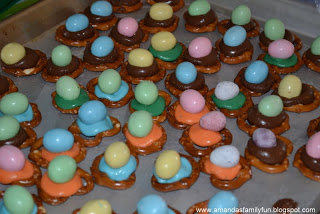 Saw these on pinterest and made them with the supplies we had in the house. This recipe was very easy -- I don't think I even pinned it! These were really fast and the girls basically made these by themselves. We put wax paper on a cookie sheet, the girls laid out the pretzels and then topped each one with either a Hershey's kiss or candy melt. Then we popped them in the oven for a few minutes. Our oven was hot from a previous use so I just watched it very carefully. I believe the recipe said 5 minutes at 275F. Once the chocolate is soft quickly pop a candy on top. We used Hershey's candy coated chocolate eggs, but you could easily use anything that fits -- M&M's, jelly beans, Cadbury's mini eggs (we used them when we ran out of the others!). The kids even did this last step but I helped to get it done quickly. I told them to be careful of the hot pan and not to worry about going too fast. These were very tasty - a sweet & salty bite :)
Funfetti Popcorn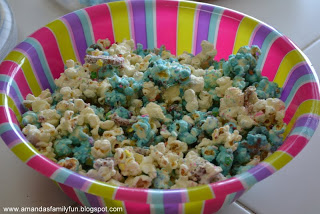 Super easy recipe found at
Cooking Classy
. We made a slight variation. We coated half the popcorn with blue candy melts and half with white confetti candy melts and left out the M&M's as we didn't have any. It was delicious. I didn't plan on making this ahead of time and kind of stumbled upon the recipe at the last minute and just used what we had at home - hence the half blue, half white colours. I think it looks nice this way. Bonus. The recipe yields A LOT. Good for gifting in clear little bags with a decorative bow & tag.
The party was fun. Delicious lunch including our local Good Friday favourites - Hot Cross Buns & Codfish cakes, Easter Egg Hunt, kite flying, and a great time spent with family.