Today I made some corn pancakes for lunch. They were yummy :) It's a recipe of sorts but not from scratch. I have a bunch of boxes of corn muffin mix that I wanted to use up so I decided to make one into corn pancakes. I'll post the recipe at the end - first here's Heidi's Muffin Tin Monday lunch.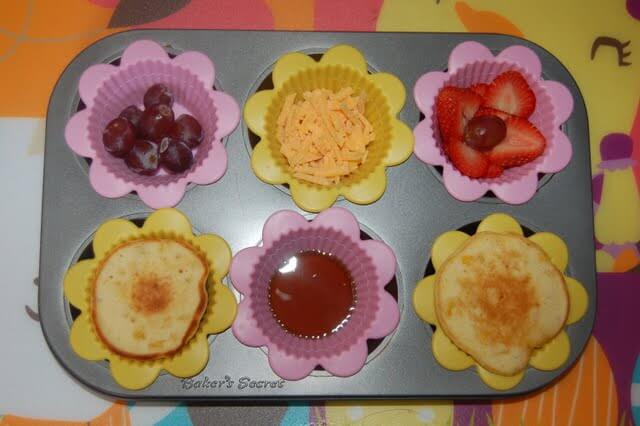 grapes, grated cheese, flower-like strawberries
corn pancakes & maple syrup to dip them
She's still eating but so far the grated cheese, half of each pancake and some grapes are popular. She already ate at least one pancake when I was making them so I am not expecting too much.
Corn Pancake Recipe
1 box corn muffin mix (8.5 oz)
1/2 cup flour
1 tsp baking powder
2 Tbs sugar
pinch salt
3/4 cup milk
1 egg, beaten
1 cup kernel corn (I used frozen, thawed)
Mix the dry ingredients in a medium bowl. Make a well and add the beaten egg & milk. Stir until just combined. Add the corn and stir. You want the consistency of a slightly thicker pancake batter. You can either drop spoonfuls ( I used a mini ice cream scoop) onto a non stick skillet or griddle, or a skillet with butter/canola oil, or like me a slightly buttered electric griddle.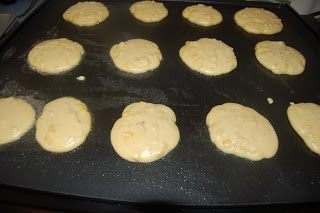 Cook and flip like regular pancakes.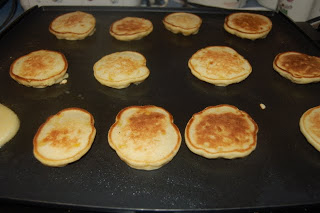 Serve with butter & maple syrup for corn pancake deliciousness :) Using my mini ice cream scoop this made about 23 pancakes. We ate some before this photo - I can't blame little Heidi for all of the missing ones ;) ;)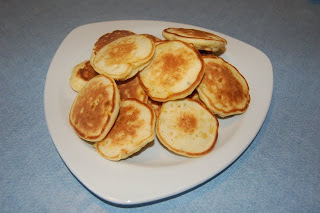 How I would make this differently next time . One thing I had wanted to add was a can of cream style corn (but I didn't have any at home). So next time I might try decreasing the milk and adding a can of cream style corn. I think it will give it a little extra corn kick. I wouldn't decrease the whole corn kernels though - use both. I wanted to use butter/canola oil in a skillet but mine wasn't very big and I could see this would take forever. I switched to the electric griddle which I use for regular pancakes every Sunday morning. I have never buttered it before but I think it adds a little richness so definitely I will stick with this method for corn pancakes.
click the button to see some fun Muffin Tin Lunches: