Well - I woke up late! Everyone else was up in the house - even Daddy. I didn't get up until 7:51 - ack! I think he was letting me sleep because I have been so sick. R was also sick last night and didn't go to school today. So really I only had to make one lunch this morning. Daddy was helpful: breakfast, clothes, supervising teeth brushing etc. So it wasn't too crazy from being late but it wasn't a smooth morning exactly.
Amy was desperate to have the new bunny picks - I guess she isn't tired of bunny lunches just yet. So here's what I came up with at lightning speed!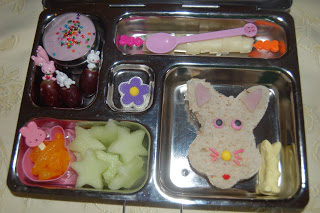 blueberry yogurt with sprinkles, grapes, string cheese (bunny spoon for the yogurt)
mandarin oranges, honeydew melon, heart sugar decoration
PB bunny sandwich with a mini bunny marshmallow friend
Now that I've had a minute to step back and look at the photo - I can see his eyes are a little too high and he has a stunned expression - LOL. Oh well - his face has character :)
Amy loved it as she saw it before she left for school - she was hovering around the counter while I was making it again. I also made a small afterschool snack as she is going to the park with her friend afterschool. Snack wasn't that creative so I didn't take a photo. In fact, most exciting part was the hello kitty container!