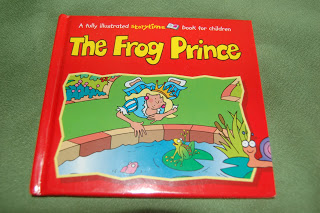 The Frog Prince - retold by Caroline Petherbridge, Illustraed by Lee Nicholls. It's from the UK and published by CYP Limited. This is one of our family's favourite book & CD stories - we normally listen to it in the car. We've had this version for years now - I think it was our first ever book and CD set, thoughtfully gifted by Nana. Why am telling you about our favourite story CD? Well it's because it's a great set if you're interested and today's sandwich is based on it.
I've had the Sandwishes Lunch Punch set for a while now and everytime I see the frog punch I think of a plan to use it but then usually end up using a different one for whatever reason. Well today was the day I used the frog lunch punch. It's meant to be the frog prince anyway so that wasn't exactly a stretch - lol.
Amy's Lunch today - planetbox again
in case you haven't noticed we use it pretty much everyday for school.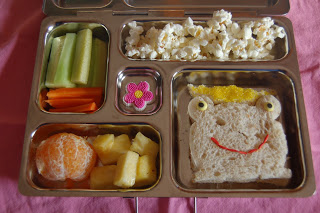 cucumber sticks, carrot sticks, popcorn, icing flower decoration (by request)
half a tangerine (meant to be the golden ball), pineapple chunks
and the Frog Prince Peanut butter sandwich.
If this lunch was for R, I would have definitely made a cheddar cheese cutout crown. Amy however won't eat any non-melted, non-string cheese these days so yellow decorating sugar it was. I don't think she'll mind eating that :)