Well for a lunch :) I made both girls little crown sandwiches for lunch. I took a little extra care compared to the last time I used this lunch punch and I think it was a huge improvement. This was yesterday's lunch for school. Monday's lunch was totally boring so I didn't take a photo. Once again, very similar lunches. for each of them. I must say this really makes life easy - doing the same or almost the same for each one in the morning.
Queen Amy's Crown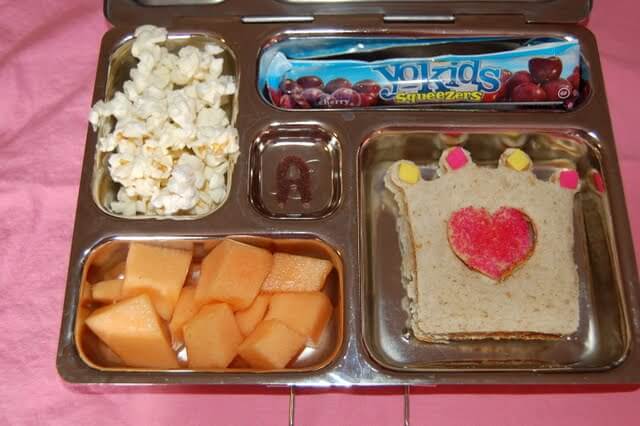 popcorn, yo kids cherry yogurt, fruit leather 'A'
cantaloupe, peanut butter crown sandwich
This was a miniature re-trial of the fruit leather. Last time she hated it and said it was gross. This time she said it was the BEST THING EVER. It is Stretch Island Fruit Co. cherry - she came home and wanted some more and also tried the strawberry one again and now she likes them both. Sheesh. I bought an apple one also to try but they haven't had a chance yet. So the verdict is still out on apple.
Queen Rose's Crown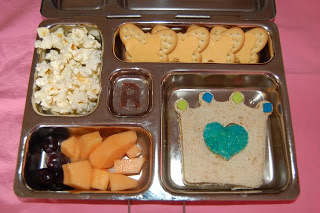 popcorn, cheese & crackers, fruit leather 'R'
grapes, cantaloupe, peanut butter crown sandwich
Amy got the last yogurt, so Rose had butterfly cheese and crackers which really has nothing to do with her crown but it just happened to be the kind of crackers we had.
Rose did not love the cherry fruit leather R - or the strawberry one either :( Each crown was in their favourite colours so they were thrilled! I used coloured sugar for the hearts and Wilton jumbo diamond icing decorations for the jewels. Who wouldn't love that for lunch?