I have been very sick lately and haven't bothered to check the mailbox even though I KNEW there should be a package there by now. Finally I asked Hubby to check today - and Voila! My wonderful package full of bento goodies! It was from All Things for Sale.
Here's what I bought: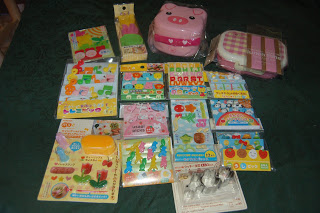 The pink bento on the far right was a freebie - yay! The kids were very excited to see what was inside the box - I have never seen the toys picked up faster ( that was my bribe!)
A slightly better close up of some of the picks.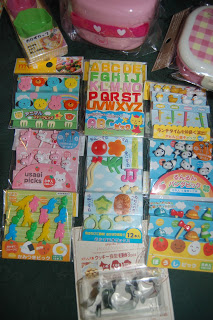 Truthfully it was kind of hard to snap a picture as they were all 3 clamoring to get closer looks! I can't wait to use these in their lunches - so I'll have to come up with a plan for a fabulous lunch tomorrow - unless of course we get up late! I have already sent the kids to bed early so hopefully it will translate into an early start tomorrow :)
Amy had the rehearsal for her first ballet recital last evening. I just had to share a sneak peek photo because they are so darn cute! I put some makeup on for the stage and she said it looked like her teenage face - OMG where did she come up with that! LOL