I had REALLY good intentions for a MTM today but H woke up cranky & hungry so I had to move
fast
. I had wanted to do a spring theme with flowers (including the new ham flower I learned!), butterflies and everything but I really only had time to create the sun. The egg was going to be a baby chick but H just couldn't wait another minute - I should have finished that when she was still sleeping. The rest had to be super quick items that required no extra finishes - so the original plan was put away for another day!
Here's what we ended up with for our sunny day lunch: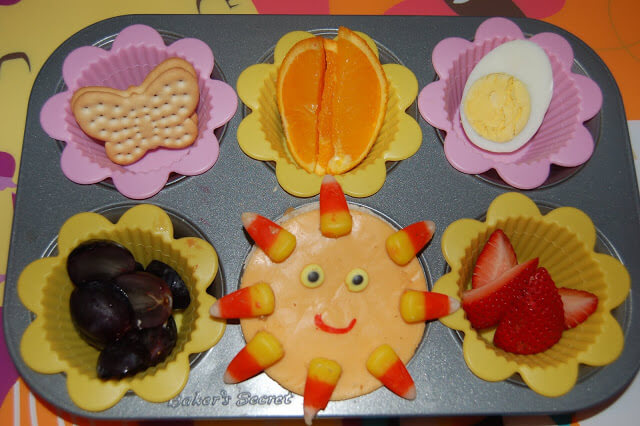 butterfly crackers, orange slices, half a boiled egg
halved grapes (because they were huge), sunny cheese sandwich, strawberry pieces
For Easter I was given one of those magazine recipe booklets and the candy corn sun was on the cover as a cupcake decoration ( there wasn't any cheese - but yellow icing instead). It reminded me of
this
sandwich on C
ookie Cutter Lunch
from about a month ago, and I thought it would be perfect for my plan. I used less candy corn than the originals as I just didn't want so much candy in my MTM today and a food colouring marker for the mouth as there was no time for anything else. The booklet also had some really fun looking cupcake recipes in there that I can't wait to try!
Here's what was left - she must have been starving!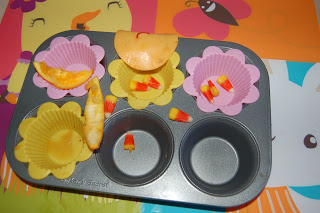 She's not usually this messy of an eater and she didn't eat a single candy corn.
I don't think she missed the other fun elements!
Another successful lunch.
check out some other fun lunches on: