We had tons of fun Easter activities this past weekend. On Thursday we went to Rose's nursery for their Easter Egg Hunt and morning of fun. (Well not Amy as she was in school).
We spent a lot of the time chasing Heidi around the playground! She'll be starting there in September as Rose leaves to join Amy at Montessori. This kids were supposed to find 3 eggs each and then turn them in to the teachers who doled out candy. Rose was quick - she finished second!
Cookie making at nursery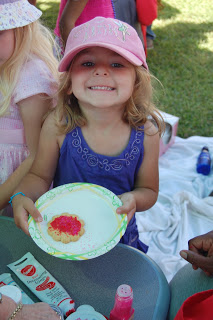 Egg Hunt at nursery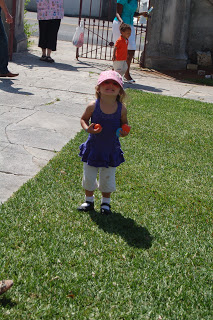 Daddy & Heidi enjoying some shade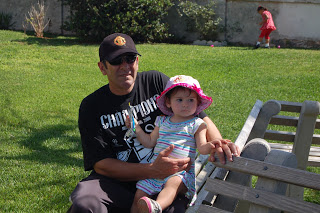 Everyone was off for Good Friday so we had a blast at home with our own mini egg hunt, traditional codfish & potato breakfast, BBQ, a few games and kite flying with some family - my Mom has most of the pictures from egg & spoon, sack race & kites -I'll have to ask her for them. Normally we have a larger party with even more games but as I needed to take it easy for a few days it was much more low key than normal and only a few family members stopped by - the kind who stay and wash the dishes!!!
I always organise so that each child has to find a certain colour egg. There is always a large age range - this time 1 year - 9 years old - and it makes it fair for everyone. You can hide the littlest one's eggs out in the open and really hide the older children's eggs. They generally all finish up at the same time, count to make sure they found them all, pop open their eggs sort their loot and sometimes trade the contents! I then collect all of the eggs to use again the next year. When there is a bigger party going on I also hide a special egg -like the golden egg idea - and anyone can search for it, grownups too. There is a special prize for finding that one - usually a huge chocolate bunny, but I hide that egg REALLY well.
The hunt begins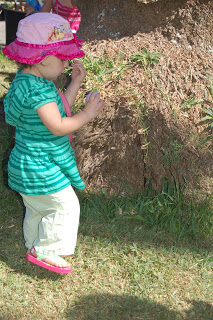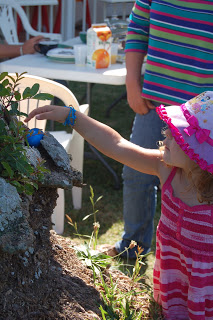 Counting to see if Rose found all of hers.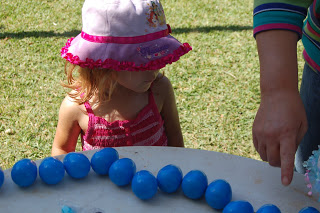 Sorting and trading loot!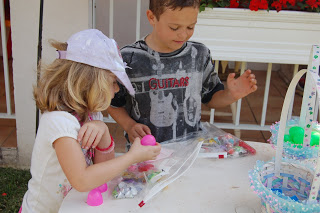 Today we'll be off to my In-Laws for Easter Sunday Lunch and a little playtime with the cousins. The Easter Bunny brought some fun bubble wands so we'll take them over to share for a little outside fun - the weather has been great lately so we've been outside playing everyday. I'm quite sure spring has sprung!