Well not really - we live in Bermuda! In fact, my children have never seen real snow.
Since lots of places have snow right now - here's a little snowy lunch for Rose. It was a quick lunch that Rose took to gymnastics last Saturday.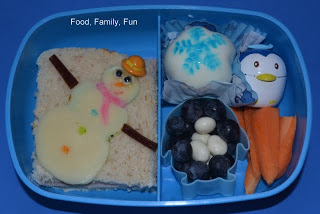 ham sandwich with mozzarella and fruit leathersnowman topper
boiled egg - snowflake desisgn and in a snowman cupcake liner
penguin cup with yogurt covered raisins and blueberries
penguin mini container with craisins
carrots - snowman noses!
Shared on
Bento Blog Network
Voting starts Wednesday - vote for me if you like it!