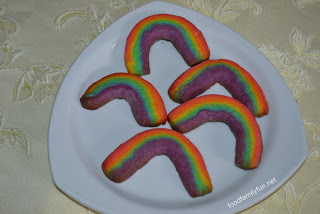 I first saw the idea of rainbow cookies on pinterest but they were rainbow striped, rectangle cookies. I expanded on that idea -- I used a different cookie dough base, tinted it and then made curved rainbow shapes instead. These were for Amy's classroom cookie swap - it turned out that she was feeling sick again that day, so Rosie took them in for her. A classmate has an allergy to whey, so these are whey free cookies so that everyone can participate in the cookie swap :)
Rainbow Sugar Cookies -- Whey free
1 cup unsalted real butter, softened
liquid food colouring: red, blue, yellow, green
In a medium bowl sift together flour, baking powder and salt. Set aside. In a mixing bowl, cream butter and sugar, add in eggs & vanilla. Add the flour mixture to the wet ingredients one cup at a time. Do not over mix, the dough will be very soft. Divide the dough into 6 equal portions and tint with food colouring accordingly so that you have the following colours : red, orange , yellow, green, blue and purple. Roll each colour into a ball, wrap in saran wrap and refrigerate for about 15-20 minutes until it's slightly firmer.
Lightly dust a large piece of parchment paper with flour and roll out the red into a medium rectangle – about 6x10. The dough should be very thin. Then going in the order of the rainbow, roll out each subsequent colour to a similar sized rectangle and stack it on top of the red. This is the trickiest part. Use the parchment paper to flip the next colour onto the stack and then gently peel the paper away. When all of the colours have been stacked, cover with parchment paper and press together firmly, then put in the fridge for at least one hour.
Preheat the oven to 350F. When the dough is chilled, trim the edges to make a neat rectangle and cut in half into two long rectangles of 3x10. Slice 1/4inch slices, curve into a rainbow shape and place on an ungreased cookie sheet. Bake at 350F for about 10 minutes. Leave to cool one minute on the pan and then move to cooling racks to cool completely.
Tip:
it is best to leave dough in the fridge until you are ready to use it, so if you are baking 2 cookie sheets at a time and are waiting to cut and arrange the next batch -- leave the dough in the fridge until you are ready to put the cookies on the sheet.