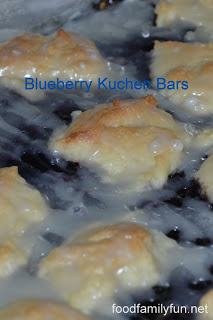 I saw
this recipe
on
4Kowboys
blog for cherry kuchen bars and wanted to try it right away! I opted to switch to my husband's favourite -- blueberry. Yum! I did not have a 15x10x1 baking sheet so I used a 9x13. The only problem was possibly making the bottom crust slightly too thick and not saving enough dough for the top. They still tasted yummy! Next time I will save at least 2 cups of dough for the top. I'm not quite sure how this works out in the larger pan, the bottom crust must be
really
thin and I can't quite figure out how 1 1/2 cups of dough will cover the larger top enough. Anyhow -- I recommend the 13x9 pan instead but you can certainly go with the original recipe plan and used the 15x10
Blueberry Kuchen Bars
makes - 32 bars in a 15x10 pan, I made 24 bars in a 13x9 pan
Prep: 10 minutes, Cool 10-15 minutes, bake 42 minutes
Temp: 350F
Ingredients:
1/2 cup butter, softened
1/2 cup shortening
1 3/4 cups sugar
1 1/2 tsp baking powder
1/2 tsp salt
3 eggs, beaten
1 tsp vanilla
3 cups flour
1 21oz can of blueberry pie filling -- or any other pie filling you choose
Icing to drizzle over the top:
1 1/2 cup powdered sugar
1/4 tsp vanilla or almond extract
3-4 tbsp milk
Preheat oven to 350F. In a mixing bowl combine butter and shortening. Add in sugar, baking powder and salt and cream together. Add in eggs, vanilla and then the flour one cup at a time. Mix until combined. In an ungreased pan spread all but 1 1/2 (or 2 cups) of the dough on the bottom. Bake at 350F for 12 minutes - it will not be golden brown. Remove from oven and spread the pie filling over the top. Drop the remaining dough by teaspoonfuls over the top. Return to oven and bake for 30 minutes more until the top is lightly golden. Cool on a rack for AT LEAST 10 minutes. Meanwhile, in a small bowl, mix together the powdered sugar, vanilla and milk to make a thin icing. Drizzle over the top of the bars and then cool just a little bit more and cut into squares. The original recipe said to cool completely and then cut into bars. However, you can cut and serve this slightly warm -- it tastes great both ways and cuts fine slightly warm :)
One other little booboo I made was putting my icing on the top before they had cooled enough. It looked less drizzled and kind of melted/spread all over. Still tasted great but not quite as pretty as the original photo!