I'm going to have to start paying closer attention to the "not a sandwich" bentos I see online. Rose is on a bit of a boycott of sandwiches still. She wants crackers and bologna or ham all the time now. I must convince her to try something else. I haven't made any savoury muffins in a while, might make a batch of those this weekend.
Rose's not a sandwich planetbox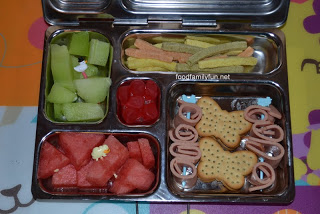 honewdew melon, watermelon, strawberry fruit snacks
veggie straws - ranch flavour
butterfly crackers and bologna
She ate almost everything in here!