Amy and Rose made their own lunches one day last week. I'm joining in on another
blog hop
-- Mom's Day Off! Check out the link at the bottom of the post to hop on over to another Mom's Day Off lunch box.
This was really Mom's half morning off -- I still had to prepare snack for the class and Heidi's lunch to take to her cousin's Sports Day. The girls did a really good job and other than me reaching down a few high items and cutting the carrot into sticks, they actually did this by themselves. I did steer them in the direction of "please use your planetboxes" since I knew it would make it easy for them with the nicely divided compartments.
Amy's Lunch - age 6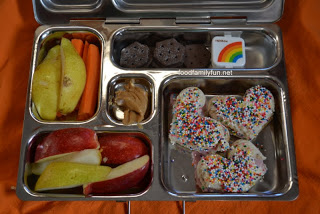 Pears, carrot sticks, apples, oreo thins, peanut butter
mini container with a vitamin, heart shaped sandwiches covered in sprinkles!!
Rose's Lunch - age 4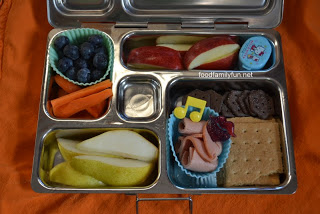 blueberries, carrot sticks, apples, mini hello kitty cup holds a vitamin
pears, oreo thins (they shared a package), bologna rolled up,
graham crackers
Amy peeled the carrot and I cut it into sticks as was difficult for her, they used the push down apple corer/slicer and Amy cut the apple, Rose cut the pear and they shared it between them. Amy spent quite a lot of time holding different cookie cutters over her bread to decide what she wanted. It was cute, she was really trying to plan it out and they were discussing it as they worked together! Amy & Rose were very excited to make their own lunch and they have asked me every day since they made them-- have you posted our lunches yet?? The girls will be checking in on this post later so give them a shout out if you like their work :)
For some more fun Mom's Day Off lunch boxes and bentos, hop to the next blog by clicking the link below. Keep going until you end up back here, then you will have seen them all :)