Finally all three girls were well enough to go back to school. We ended up being in a bit of a rush this morning so I just started packing lunch without any theme, fruit first as usual. Suddenly, I looked down and I had been using the colours of the rainbow - in order even - top to bottom! I quickly remembered that I had some cute new rainbow cups, added a row of purple grapes & turned it into a rainbow themed lunch.
Amy's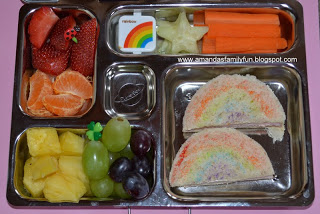 strawberries, clementines, pineapple, green & purple grapes
cucumber stars, carrots & PB dip in the little cup
Rainbow sandwiches - Ham
Rose's lunch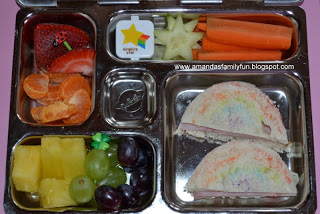 all the same - except she has ranch dip in her little cup :)
Heidi's Lunch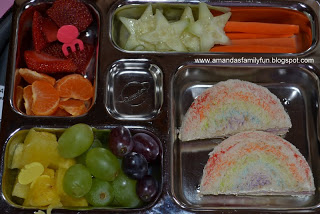 the same except no dip for her.
If you look really closely you'll notice that the colour yellow is missing from the rainbow sandwiches. I couldn't find the yellow food writer and we really were behind schedule today. The husband was complaining as I was colouring their sandwiches. I just couldn't let this accidental rainbow lunch go without a rainbow sandwich!! I was fast I promise.
Shared on: