Yesterday, I made some very cute bunny shaped rolls. It was my first time making them and a couple came out a little wonky. Not to worry, they still tasted yummy and we had them with our lunch yesterday. I saved a few of the better looking ones for lunches today.
Rose's lunch - vegetarian today :)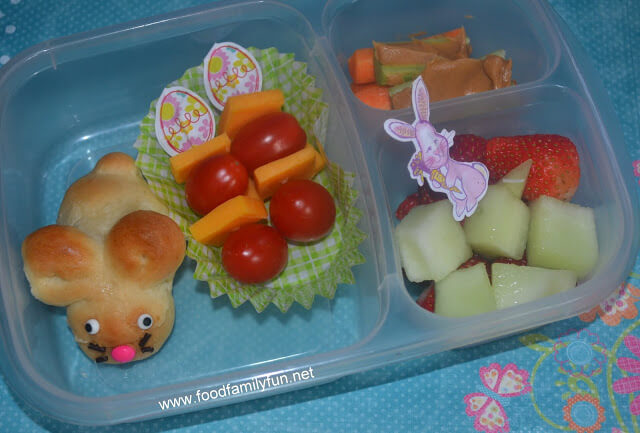 bunny roll with butter, tomatoes & cheddar, carrots sticks and celery with peanut butter, strawberries & honeydew melon
Amy's lunch is a little different (and not vegetarian!)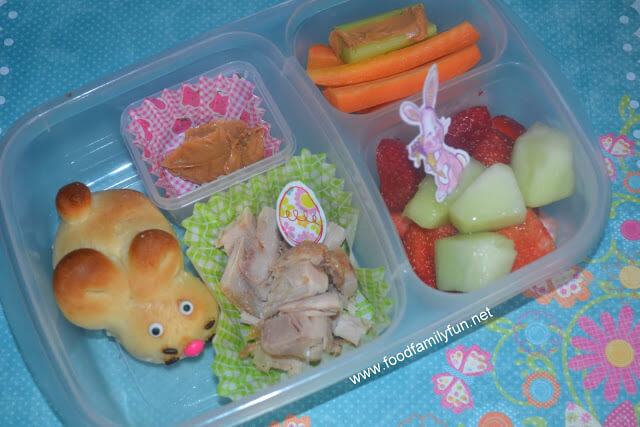 Bunny roll with butter, leftover roasted chicken, peanut butter for dipping her carrot sticks, celery with peanut butter, strawberries & honeydew melon
Amy is rascally and said that they looked like mice. We have had that problem before – lol. Here's my last
bunny? or mouse? lunch
. I told her the rolls are obviously bunnies – just look at their tails. She said but look at their faces. hee hee. She wasn't being snarky, we were just having a fun chat about it. Next time, I'll make longer ears on the bunny rolls too.
I first saw the idea to make bunny shaped rolls last year on
Lunches Fit for A Kid
. I didn't follow her recipe, just used my own favourite bread roll recipe and her general technique. Her bunnies even had feet! I wasn't sure how the rolls would turn out and I believe the key is the ears. Try very hard to make the ears the same size and make sure they are sort of laying back a bit and not too much to the side. Some of mine went a little side ways when they rose/baked. If you look at
Astrid's as a guide
you can see that her bunny ears are definitely laying straight back.
Shared on: