Some very simple bento snacks for after swimming. Rose's is in the black bento and Heidi's is in the pink bento. They are virtually the same.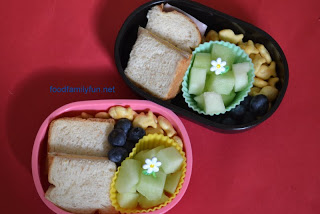 half a sandwich - ham & mustard or cheese
goldfish, blueberries and some honeydew melon
Swimming lessons are going great. Rose won't jump off the diving board by herself though! She's too funny. She stands there all ready to go and then shakes her head no and wants to hold someone's hand when she jumps. Hoping for a big jump tomorrow!!