A fun monkey lunch for Amy. Sorry for the horrendous photo. Amy was about to run out the door to go to camp and I was just trying to snap a really quick photo. Her tooth is very wiggly, so I made her pudding as it's very soft. When I grabbed a mini cup to put in some sprinkles it was the little monkey that caught my eye, so I decided to make it a monkey themed lunch.
I didn't plan this out very well for a spur of the moment lunch as it took a little more time than I had in the morning - but it's just so cute it was worth the rush.
Amy's Lunch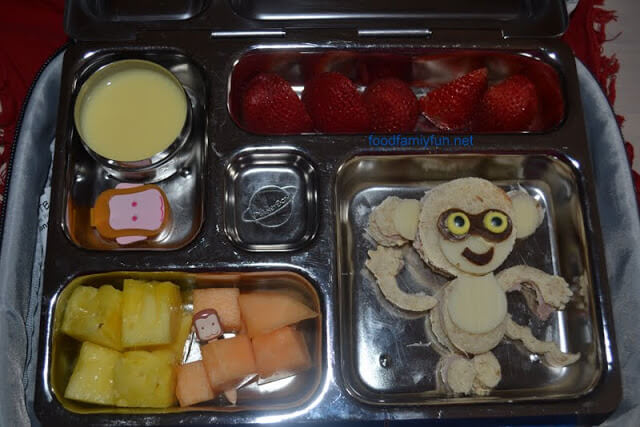 vanilla pudding with rainbow sprinkles in the monkey cup,
strawberries,
pineapple, cantaloupe
monkey sandwich - ham with cheese, fruit leather and candy eye features
I can't take any credit for the sandwich design -- I saw it ages ago and knew that I wanted to try it one day.When I thought about making a monkey theme it came to mind immediately. Here is the
fabulous original.
It was made by Lise of
Veggie Bento
. She has so many cute ideas. This is another favourite that she has made:
Earth Day Tree Hugger
.
These are the cutters that I used to make the Monkey sandwich.