I realise that Christmas was last month and a Gingerbread House post is sort of out of place in January but I still want to share our Gingerbread House. I ended up with a bit of a long blogging break over the Christmas Holiday It wasn't planned, just sort of happened. With the girls out of school I really enjoyed spending time with them and our family and blogging took a back seat. Now I want to catch up!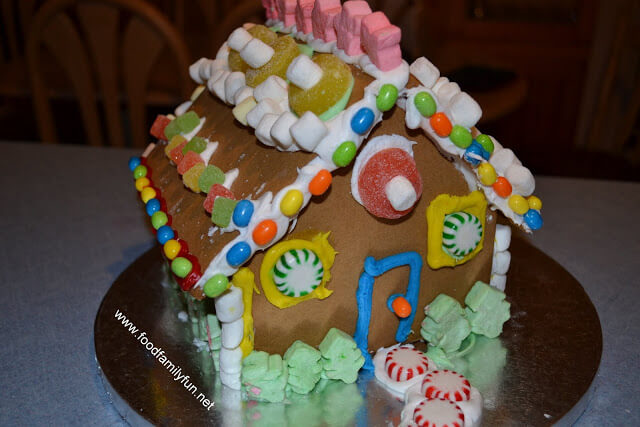 So again we went with the Gingerbread House kit made by Wilton I really think it's a good way to go instead of baking the house from scratch. I bought a few marshmallows and some extra candy to go with it but you certainly could make due with what's in the box. This year, somehow, I made the Royal icing a bit too thick. It worked out OK but was hard to squeeze. In general our Gingerbread House procedure went as follows. I am in charge of assembly and the icing. The girls tell me where to put icing and they glue on the candies. This year we also used some squeeze tube coloured icing and I let Amy use that on her own. We used a muffin tin to keep track of the candies again. I forgot to take a before picture so this is an after photo. Obviously there was lots of candy on the house already!
This is such great fun. There's a little laughter, a little candy and icing eating and everyone ends up happy and proud of their work.
Rose and Heidi wanted me to take a picture of them sneaking into the photos. Goofballs.
Emily was still a little too young to help but maybe next year. She did try to sweep the floor afterwards in the hopes of finding some stray candies I'm sure! She was most upset that I wouldn't give her any but they were all choking hazards. I did give her a little taste of icing though ;)
This is one of the Gingerbread House kits and these are the brands of icing that we used for the coloured icing. It worked quite well to "glue" the candies on the house.