This started out as an extremely orange lunch. Now it's just a mostly orange lunch. I asked Amy what she wanted in her lunch today and she chose carrots, cantaloupe and goldfish. I started putting it together and then realised the orange theme emerging. I quickly added a little cucumber and craisins for variety.
Amy's lunch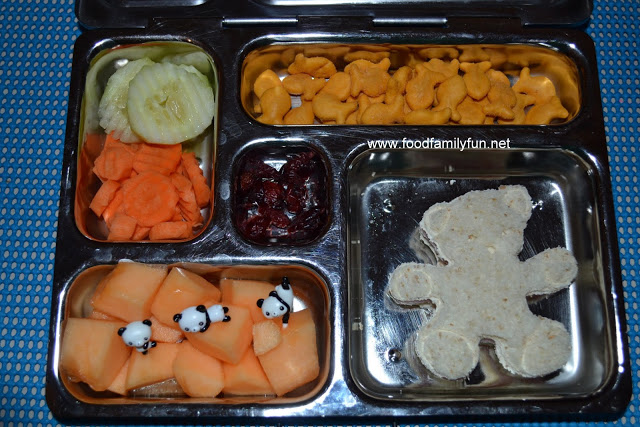 cucumber slices, carrot coins, goldfish, cantaloupe, craisins
bear shaped ham sandwich
The bear sandwich has some very cute bear details stamped on it. It's a bit tricky to see in the photo but in real life it's adorable. I didn't really have any extra time this morning to get the light just right to highlight the stamped bread. Also, I could have stamped the bread a little deeper/harder which might have shown up more in the photo. The cutter & stamp is part of a set of cookie cutters that is probably one of my best purchases of late. They make great cookies and cute sandwiches.
Rose wanted something hot again and has spaghetti and meatballs in her funtainer.
I still sent her a little side of fruit to go with it.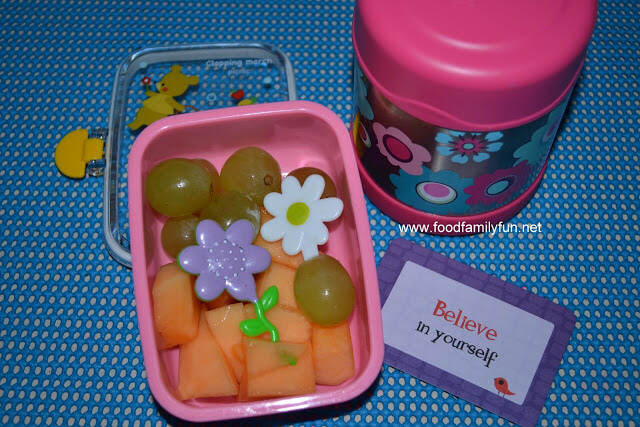 She chose cantaloupe and grapes. I included a little
lunchbox love note
in each of their lunches as I have been everyday for a while now. They have a sale on right now and it's a good time to grab some. The girls really look forward to their little notes and trivia each day. I think it's a hit at the lunch table :)
If you missed the sale you can also buy Lunchbox Love notes and some other items I used on Amazon or All Things for Sale: