Wow. It's been a crazy-busy holiday month. So many school activites, holiday events and organising and I hardly posted any of the girls' lunches! I will try and post a new lunch each day from the past few weeks to catch up. School is on holiday and I won't be making any new packed lunches until the new year but I have several to share from the end of school.
Saw
this
and decided it was too easy to not copy it!
Heidi's lunch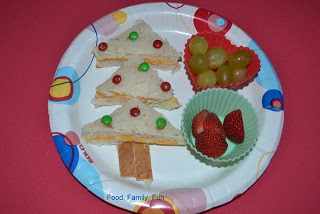 Cheese sandwich Christmas tree with mini m&m ornaments,
grapes & strawberries
She was out of school a few days before her sisters, so this was an at home lunch only for her :) She ate the fruit first - not even the candies. <3 her.