More Halloween fun lunches for the girls today. Emily was up playing in the middle of the night last night and my husband and I were both really tired this morning. Lunches had to be super fast and easy. Here's what I came up with.
Rose's Lunch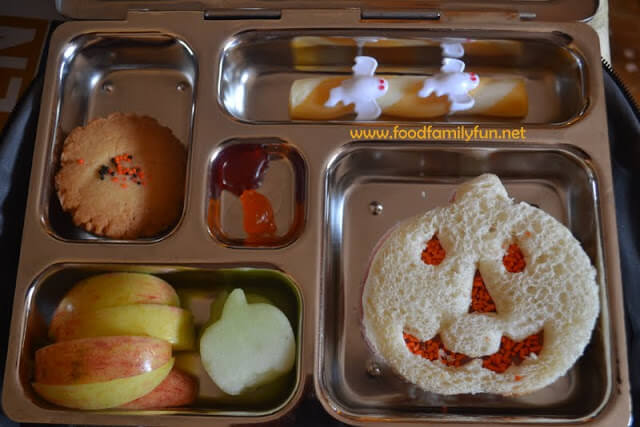 cookie (I didn't make these, my Aunt brought them over last night), string cheese with ghost rings,
gummy vitamins, apple pieces, honeydew melon
jack o lantern sandwich
The ghost rings were one of a few fun Halloween trinkets that I found at Party Plus on the weekend.
Amy's Lunch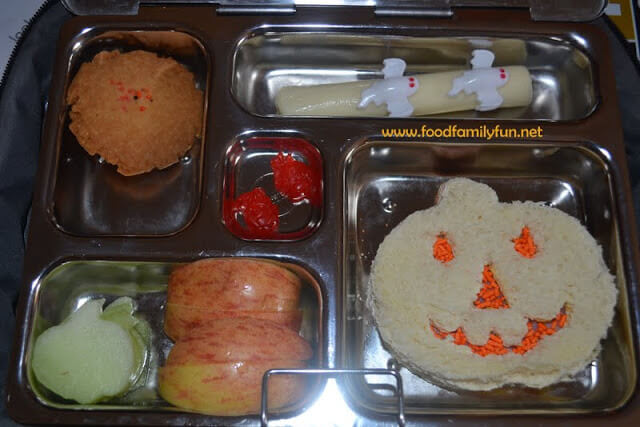 Amy's is the same as Rose's. Just a different cheese and no mustard on her sandwich. The cookie sure looked lonely in that compartment all by itself but there has been a little bit of uneaten food coming home lately, so I didn't want to overpack again.
.
Heidi had a cookie, grapes, apple pieces and a cheese pizza.
For Heidi I still made her lunch in the morning, but I didn't heat up the pizza until she got home from school. I am sure that this is the first of many Halloween pizzas I'll make this year as the girls always request them once Halloween nears. The ghost cutter below also makes a great Halloween pizza, cover it with grated mozzarella and sliced black olives for eyes and a mouth instead :)
Everyone ate all of their lunch except Amy, who left some cheese.