Today the girls get to dress up for Halloween Character Day at school. School doesn't celebrate Halloween so for Character Day they can dress as a character from a book or a nursery rhyme. It's optional, but of course we're dressing up! I wonder if anyone ever opts out?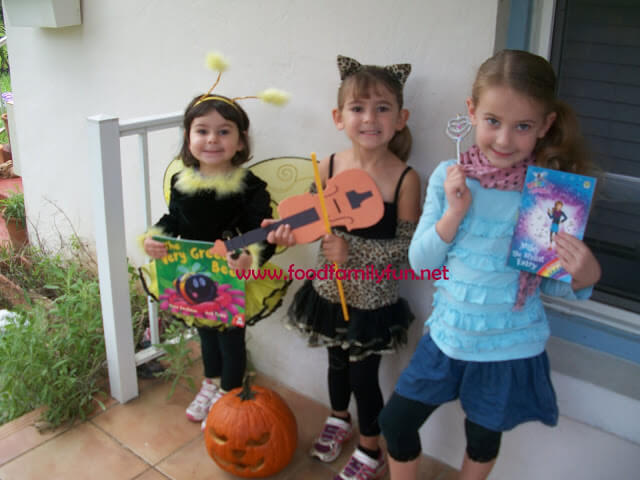 Heidi is the Greedy Bee, Rose is the cat from Hey Diddle Diddle,
Amy is Miley the Sylist Fairy from the Rainbow Magic Fairy series
My husband made Rose's fiddle out of cardboard and some paper last night. I went to bed and basically said please cut this cardboard into a violin shape and draw some features on it with a marker. Well he had his own idea. He said he couldn't find a ruler or the exacto etc and it was late so he didn't quite finish. It's only missing strings and a chin rest but for a one time costume prop you totally get the idea! I think it looks fabulous (way better than what I had in mind!) and Rose was over the moon.
In other news -- I broke my camera the other night!?!? Well I destroyed the lens. The body seems OK. The whole thing fell off the bookcase and the lens snapped off and broke into several pieces :( Hopefully Santa will bring me a new lens -- until then I am using a borrowed little camera when I can so my photos might be a little off.
Hope you have a fun day!