Amy wanted a spookie Halloween lunch so this is what I came up with, a funky monster which looks sort of happy and lots of monster parts! Today's post is part of a fun Frightful Fall blog hop by the Bento Blogger's and Friends. At the end of the post click the button to hop over to the next Frightful Fall lunch.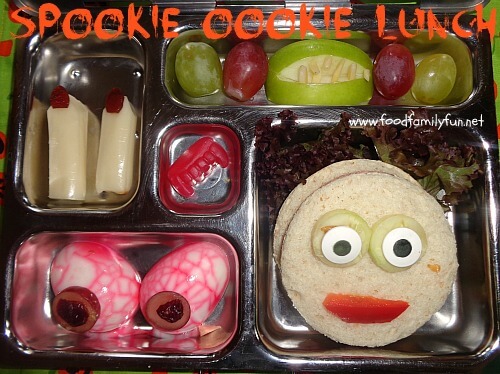 Amy has mozzarella cheese & fruit leather fingers, spookie boiled egg eyeballs with grape slices and dried cranberry accents, apple and almonds monster mouth and a few grapes. The gummy candy Vampire teeth are made by the Natural Confectionery Company. Amy's sandwich is a turkey sandwich with lettuce hair, cucumber and candy eyes and a red pepper mouth.
Rose has a Haunted Pumpkin Patch Lunch.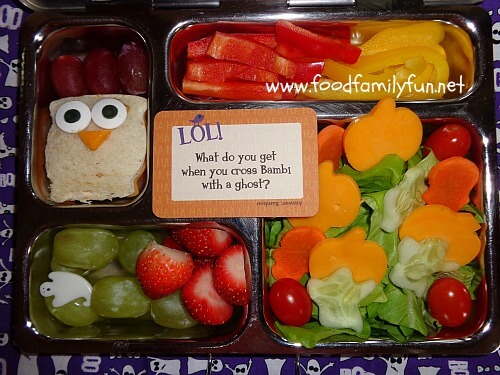 I packed her a Wadson's Farms baby butter lettuce salad with cheese pumpkins, ghost cucumbers, skull carrots and grape tomatoes. She also has red & yellow pepper strips, grapes, strawberries, a couple of grapes and an owl shaped cheese sandwich. This lunch is
vegetarian
. I packed her a lunchbox love note from the Halloween Jokes series. Amy also had one but it didn't make it into the photo. Her joke went something like this - What kind of fruit do vampires love? Neck-tarines. hahaha!
So here's how the hop works. Click the button below to hop to
Sarah's blog Zoe's Lunchbox
. Keep clicking the buttons to see all of the lunches. When you arrive back here you will have seen them all. There are 15 different blogs.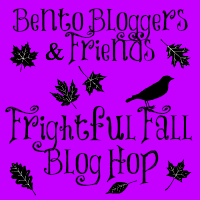 Since this is day 3 of the Bento Bloggers & Friends Frightful Fall hop, you can also go through the other 2 hops that went live earlier this week.
Click here to start day 1
,
Click Here to start day 2
. Each one will have 15 blogs so if you hop all 3 that's a total of 45 fun lunch blogs! You'll surely find lots of fun FallOWeen ideas ideas.