Yum! Our new favourite yogurt combo for lunch.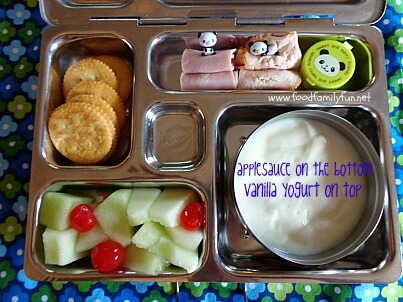 Rose has ritz crackers, ham rollups, turkey rollups, honeydew melon and a few maraschino cherries (by special request). The big dipper contains cinnamon applesauce on the bottom and vanilla yogurt on top. The little panda container has a few sprinkles to put on her yogurt. I packed an ice pack on the top and bottom of this planetbox, Rose said it was still nice and cold at lunchtime.
I saw a really lovely yogurt combo on
OrganizedBites
a while back and I instantly wanted to try it out - unsweetened applesauce, Vanana yogurt, honey and cinnamon. Before sending it for lunch, I made it at home with cinnamon applesauce, vanilla yogurt and honey and while I LOVED it, Rose preferred it without the honey. So here is Rose's version, packed for lunch. She ate everything and I think she was a bit hungrier than usual when she came home from school, so next time I need to add a little something extra. The lunch on
OrganizedBites
does look fuller and I also like how she swirled the yogurt so that you could see just a hint of something underneath!