Amy is still learning about birds and while I am dying to try
this
sandwich from Cookie Cutter Lunch I just haven't gotten around to it yet. So today she has a chicken theme. They're birds too you know!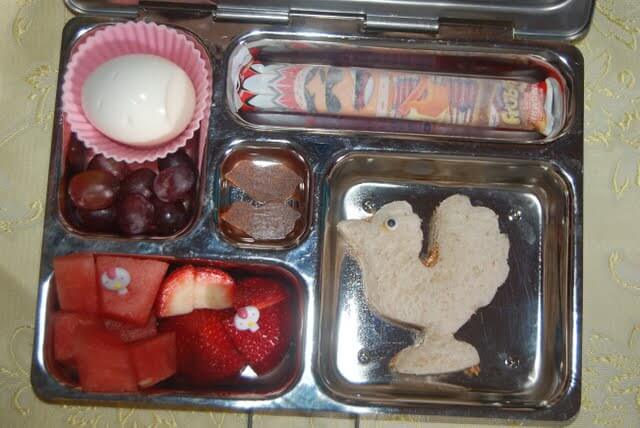 boiled egg, grapes (egg shaped?), frozen frubes yogurt,
watermelon & strawberries, baby chick shaped fruit leather
and the oddest chicken peanut butter sandwich ever!
I had a few cookie cutters to choose from here and I let Amy pick. To be fair the cutter looked more like a chicken than the cutout. She thought it was FAB so no worries. It makes me chuckle. No cheese beak today since she didn't like it on Friday with the ducks.
Rose is not learning about birds at nursery and she was quite put out about having hot school lunch on Friday while Amy had a fun, homemade lunch so today I made her a red heart themed lunch just because I love her.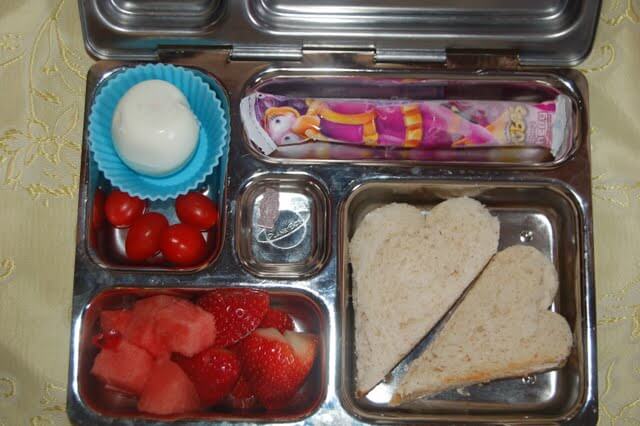 heart shaped boiled egg, grape tomatoes,
watermelon & heart shaped strawberries
frozen frubes yogurt, heart shaped PB sandwiches.
Sadly my camera lens was broken on Friday. Part of the lens broke that secures it to the body. I didn't notice at first and thought I had snapped it back on. Well it's definitely broken and I need a new one :( So until then - my pictures will probably be a little off.