Amy wanted a Mommy duck and some baby ducks for lunch. Ok. No problem. So here we have the Duckies lunch :) I could only fit one baby duck sandwich but there are other baby ducks around. Amy doesn't usually like cheese so I put a little bit of cheese in the hope that she would try it. Nope. All of the cheese came home. Ah well, I'll still try it again. She was so excited about the ducks it was worth a try.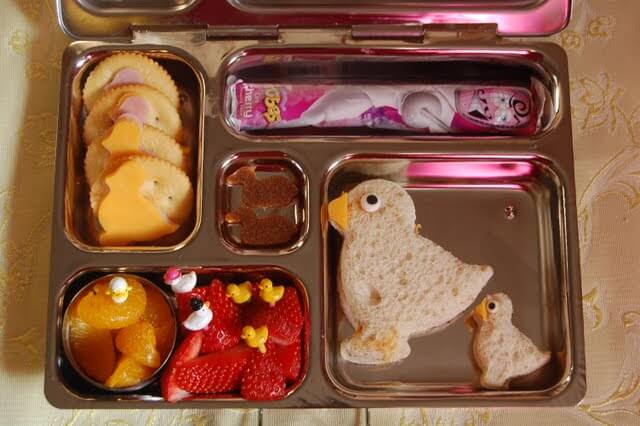 Ritz crackers with ham & cheese ducks, frozen frubes yogurt
mandarin oranges, strawberries, fruit leather ducks,
Peanut butter Mom & baby duck sandwich
I was able to cut both the Mom and baby duck out of the same sandwich so there was very little waste ( usually H & I eat the scraps so it's not
really
wasted). I find the frubes yogurts fit really well into that long spot and since it's getting warmer I prefer to freeze the yogurt instead of just relying on an ice pack. If I freeze a yo kids it just doesn't fit very well - so no more yo kids for awhile.
Sharing on:
Also on Friday I made Heidi a MTM. I was feeling a bit unwell and didn't have any plan, so I made her an odds and ends MTM again. She likes the variety, I like that it's really quick with minimal effort. Win - Win.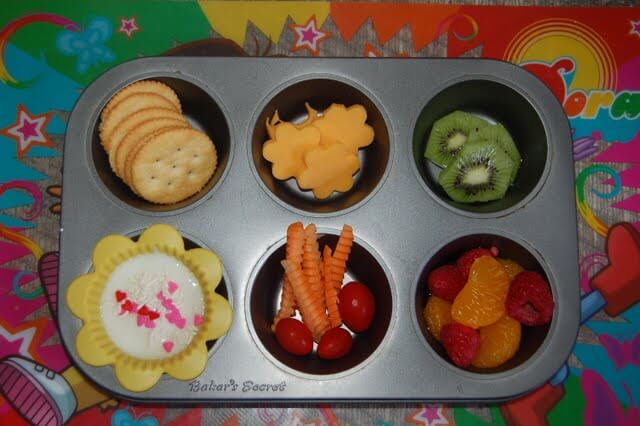 Ritz crackers, cheddar flowers (and scraps behind), kiwi slices
vanilla yogurt, carrot sticks & tomatoes, mandarin oranges & raspberries
She didn't really like the kiwi, but she hasn't had it that often. The raspberries were on their last day but still tasty - she ate them first! And as predicted she dipped her carrots in the yogurt. Surprisingly she didn't eat much of the crackers as it was the one thing she was asking for when I was putting it together. I guess the rest just looked yummier when she saw it all assembled :)
I see I have been getting some followers lately - *waves* thanks for reading!