I have a bunch of lunches to catch up with. So I'll just post a few together :) These are all from this week - and all happen to have ocean themed sammies.
Rose's lunch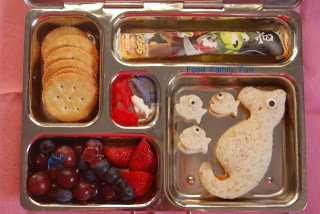 brown sugar & cinnamon ritz, frozen frubes yogurt
grapes, blueberries, strawberry, shark bites
seahorse & mini fish PB sandwiches.
Amy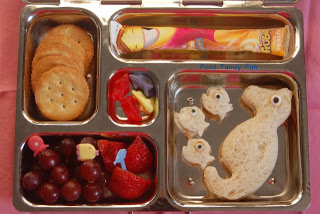 exactly the same except no blueberries
Neither one of them liked the ritz! Oh well - more for me :) I haven't bought them before but they were on sale so I thought we'd try them. Everything else was gobbled up.
Rose's Lunch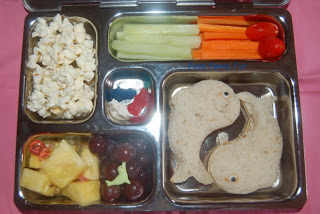 popcorn, cucumber & carrot sticks, grape tomatoes
pineapple, grapes, shark bites, dolphin sandwiches
Amy's Lunch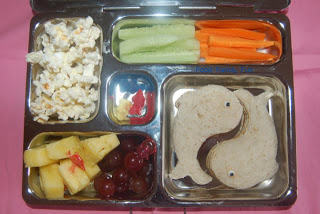 everything the same except no tomaotes.
It's official. I am addicted to the planetboxes for packing lunch. I really don't even want to use any of my bentos. They are just so easy. School is almost out here but I will have to pack some summer day camp lunches so I'm not going to be totally finished with packing lunches. I feel like I should use some of my other bentos to justify their drawer space in the house!! So maybe something different in the next few weeks.... I'll ask the girls if they would like a change.

Even though it's kind of late -- I think I will still share this on: